The PlaneWave L-350 Professional Mount Guide
PlaneWave professional telescope mounts have a reputation of exceptional performance through their continuing application of modern technology. Applying these innovations to astronomy equipment continues to lead to more versatile, simple, and affordable tools that produce impressive results to an everlasting experience.

To best fit the needs of your personal or professional use, the L-mount series comes in three types, the L-350, L-600, and L-500.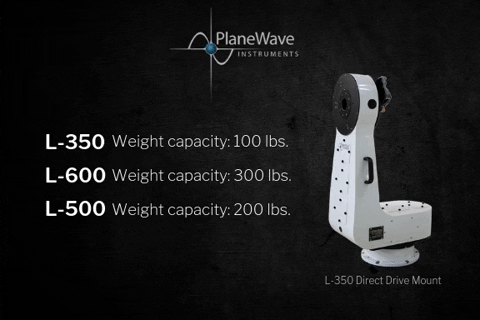 What is a Direct Drive Mount
Direct Drive motors remove the need for gears, thereby eliminating backlash and periodic error. All movements of the mount are made via the highly complex electronic manipulation of the motor magnetic field. With high-resolution encoders providing the feedback for the direct drive motors, not only will the telescope track without periodic error and backlash, the mount will also counter wind gusts with precise servo feedback. The direct drive motors can move the telescope at speeds up to 50 degrees per second, making it great for tracking satellites or to minimize target acquisition time.
At a glance, the L-350 direct drive mount has three sections, the base, the fork arm, and the motor.
The L-350, L-500, and L-600 are top-tier mounts when it comes to precision tracking for commercial entities, government use, and professional observatories.
These mounts also excel as astrophotography mounts. When used in an Alt-Az configuration with a rotating focuseron your telescope, it gives you the most precise Alt-Az imaging system available. When used with an equatorial wedge, you can track from horizon to horizon without the need for a meridian flip.
Features of the L-350 Mount
ZERO backlash.

ZERO periodic error.

Direct-drive motors on each axis for smooth, fast, and virtually silent movement of the telescope.

Slew speeds up to 50 degrees per second.

High-resolution encoders on each axis for precise positioning.

PointXP mount modeling software.

Enclosed electronics and "t

hrough the mount" cabling.
Setting Up the PlaneWave L-350 Mount
After your mount is secure and in place, download the software and adjust settings as needed.
Installing Software on the PlaneWave L-350 Professional Mount
Installing PWI4:This is the main control software. PWI4 controls the telescope mount and allows for the building of a pointing model for high precision pointing and tracking.
Installing PWI3:This software operates the focuser, rotator, Delta-T dew prevention, and fan control system. This software is for auto-focusing routines.
Installing PlateSolve 3 Catalog Installer and Catalog Data:This software is needed for PWI4 to perform plate solving, which allows you to confirm exactly where the telescope is pointing!
Installing ASCOM Platform:This software will allow you to control the mount, focusers, and rotators using ASCOM compatible third-party software such as TheSky, Maxim DL, FocusMax, ACP, CCDAutoPilot.
How to Use The PWI4 Software to Control Your L-350 Mount
Note: Polar align the equatorial wedge if you're using your PlaneWave L-350 mount as an equatorial mount.
Slew to your first target to confirm the success of your pointing model! Do this via View > Find Target (Ctrl+F) or simply click on a target in the star chart and hit GoTo.
If you open View > Find Target feel free to search for objects above a minimum altitude.
Try searching for objects with its integrated database. Simply type in a known object to find it's RA and Dec position, click on the object and then hit GoTo RA/Dec to slew the telescope to the target.
After slewing to an object, the tracking will automatically engage. If you wish to disengage tracking to stop the mount at a certain position, simply click the Track button.
When tracking is enabled, the Axis0 (Azimuth/RA) and Axis1 (Altitude/Dec) RMS numbers should turn green after slewing has completed. Ideally, you should see RMS in both axes between 0.07 to 0.25, depending on how well balanced and vibration-free your setup is. Even small vibrations and the wind can affect tracking, which will raise the RMS in each axis. Rebalance your system if you find that your tracking is above 0.20 RMS or contact PlaneWave Support for adjusting the motor tuning. Remember: The lower your RMS is in each axis, the better your track will be.
Setting Your L-350 Mount in Park Position
In PWI4, you can set a park position of the mount. This is a beneficial feature if you want to set the telescope to a certain position following use, such as in a roll-off observatory with low ceiling clearance. Additionally, you may want to operate remotely and want the park position to aim at a flat panel following your imaging session. To set the park position of your mount, please follow the simple steps below.
In PWI4, connect to your mount and click a point on the Sky Viewer and slew the telescope to that point where you want the telescope to park. The green crosshair shows where the telescope is pointing, which is the location where park location will be set. For this example, I will set park to aim south.
Click Commands > Set Park Position.
Confirm the park position by clicking Set Park.
Confirm the park position was properly set back, sending the mount to the Home position and then click Commands > Go to park position.
Setting up your PlaneWave L-350 professional telescope mount is simple if you follow these steps. For a recap, check out the steps below.
The PlaneWave L-350 Mount Quick Guide
PlaneWave professional telescope mounts are used by astronomy-driven universities and commercial companies worldwide, producing exceptional results. Equip your passion for the night sky with the PlaneWave L-350 mount and observe the universe and its ocean of stars in impressive detail.
Leave a comment