Product Reviews
Customer Reviews
Write a Review
Ask a Question
Filter Reviews:
camera
anyone
Williams
processing
viewing conditions
viewing
gain
Andromeda Galaxy
Photoshop
field flattener
08/22/2021
GEORGE J.

United States
First Light with ASI 071 MC Pro - Great Results
Put this behind a William Optics ZenithStar 73 APO, using a Williams field flattener, Baader Moon and Skyflow filter then centered it on the Andromeda Galaxy. Settings were 180 gain, 120 sec captures, cooled to 5C. 80 images captured and 76 images stacked with Deep Sky Stacker the post processing done in Photoshop under. Viewing was clear with Bortle 7 sky and full moon. I'm quite satisfied with the performance of the camera especially under the viewing conditions.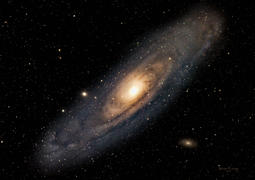 03/29/2021
Anonymous

United States
ZWO ASI071MC Pro Cooled Color CMOS
Love this camera, having lots of fun with it.
10/02/2020
Tommy H.

United States
06/18/2020
Anonymous

United States
ZWO ASI071 Pro Cooled Color CMOS
have shot this camera about seven sections and the pixs are great. niece detail and color. also i use it for star ligament so no need for spotting scope.
04/15/2020
Justin

United States
Upgrade from DSLR
This is definitely an upgrade and a bit of a learning curve from the DSLR. I pretty much had to throw away a night of imaging to work out a lot of details but that is to be expected. I'm using a Celestron 9.25 with the 6.3 reducer. I had done some research indicating that the proper back focus from the end of the reducer to the camera sensor would be around 105mm , so I loaded up on spacers. This turned out not to be so. After a great deal of experiment I landed at about 65mm before the vignetting finally subsided. Most of the learning curve has been around learning how the camera interacts with the computer and whatever programs you're using. To be honest, I still haven't worked all that out. Finally got a whole night of imaging in, though not ideal conditions ( 25mph wind gusts and a bright moon for half the night). I was blown away by the difference in image quality from the DSLR even in less than ideal conditions. Having never dealt with FITS image format there have been a number of other hurdles in the processing of the images that have been hair pulling. Deep sky stacker and pixensight both seem to read the images in gray scale and I had to figure out how to debayer. That word never enters your vocab with a dslr. But I'm sure I will figure all this out in time. That is half the fun of this hobby. Overall great camera so far. Wish I knew how to add an image to this review.
02/18/2020
patrick r.

United States
My first astronomy camera and it has completely sold me on the zwo experience and cooled cameras
The camera has produced incredible results and holds a -15deg sensor temp no worries all year making bias and dark libraries easy that is the reason right there to not shoot a dslr, keeping a steady temp means you never have to waste half the night shooting darks. The camera is super low noise and has a nice large chip for getting the large and dim nebula targets. I shoot mainly with the 2inch Triad Ultra and it makes collecting data and automation a breeze. Just set up plate solve and then you are money in SGP to shoot multi targets and meridian flips all while asleep. The large sensor and fov makes it an easy transition from a dslr or mirrorless with a real step up in quality. I am happy with the simplicity and ease to replace parts if needed. I have replaced the fan from corrosion from the salt sea air and have cleaned the sensor. Just easy to service no special tools. The one con I saw so far is that I developed some kind of dew or fog on the sensor and needed to open it charge the desiccants and clean the sensor and it's been great ever since. The images speak for themselves.