Product Reviews
Customer Reviews
Write a Review
Ask a Question
Filter Reviews:
filter
Moon
skies
target
exposure
test
Bortle 6.5
stack
others
price
02/09/2021
Scott R.

United States
Re: other reviewer remarks about Pleides
Just to add a point of correction to another reviewer who seemed to mark this filter down due to loss of nebulosity while imaging the Pleides: the Quad Ultra is a composite narrowband filter which passes H-alpha, H-beta, SII, and OIII--common wavelengths in "Emission" nebulea. The blue nebulosity in the Pleiades is reflected starlight rather than H-beta/OIII ionized gas emission--this is why astrophotographers don't use narrowband filters with the Pleiades. More broad-banded light pollution filters like the reviewer's L-Pro that only notch out sodium and mercury lamp wavelengths still pass the blue wavelengths of the Pleiades. Even the L-enhance has a broader 24nm passband encompassing H-beta and OIII compared to the narrower 5nm and 4nm passband of the Quad ultra. So, save your L-Pro for imaging galaxies and star clusters, but use this Quad Ultra for emission nebulae! Clear Skies, everyone! Scott Houston, TX
02/03/2021
Stephen L.

United States
Good service
great product; and phone support to answer questions on what is needed for everything to work was great. Thank you Opt
01/19/2021
Richard M.

United States
Worth the wait
First of all I really appreciate OPT emailing me every week or so to let me know they were working on my order (I want forgotten). And this filter is amazing! The soul nebula was clearly visible on a single exposure, it's like it was jumping out at me! The filter was securely mounted in the 48" holder (I had a 1.25" and 2" triad that seemed to rattle a bit).
01/01/2021
Brian M.

United States
One filter for your narrowband imaging needs
This filter is amazing! You can shoot narrowband with a one shot color camera. The band passes are 5nm for Ha, 4nm for all the others, very impressive. You can shoot under a full moon and heavily light polluted skies. If you extract the Ha, SII and OIII from your stack, you can process you 3 grayscale masters into the pallet of your choosing. I do it with SHO, HOO and the result is close, if not the same as a monochrome camera with separate narrowband filters. This filter is really a bargain at $1075. The cost of a monochrome setup with filter wheel and cost filters can cost upward of $1200 plus the increased cost of a monochrome camera. I highly recommend this!
RK
12/05/2020
Ron K.

United States
Ultra Quad - quite amazing
See my longer review below. I had just gotten the filter and have since been... even more amazed. This test had to be shared. I looked in Stellarium at a target CLOSEST THE FULL MOON in my Bortle 6.5-7 skies. I did 300 seconds (which is to long for any other LP filter I've tried and would over expose the background. This is ONE 300 exposure. Not a stack, no post processing... just stretched and levels adjusted. FIT header for specs. To found it funny when I looked at my (remote) IP camera in the dome and could see the moon socially distanced near the target. I had to share. - I'm on target shooting this exposure and YES... I then noticed the moon in my IP camera view.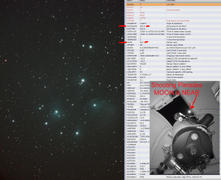 RK
11/29/2020
Ron K.

United States
Useable on scopes up to F2 (but....) ????
I am glad I got it, but it's pleasing and disappointing. Pros. REALLY blocks LP. 900-second exposures possible... (Often 600+ REQUIRED is that a con?) Max exposure time with other LP filters 120 seconds or background overexposes. Allows me to pull more colors from what would normally be monotoned RED nebula on OSC cameras Really STRIPS LP. (I'm in Bortle 6.5) I shot a target last night to test a few degrees from a full moon and no LP at 900 seconds. Retains nice natural STAR COLORS. Doesn't BLOAT stars. Con's LONG exposures that I'm not used to on an F2.2 scope. (RASA 11). I believe it shifts wavelengths a bit on faster scopes. USEABLE on F2? well you can screw it on any scope but works perfectly on fast scopes? I don't think so. EXPENSIVE Only comes in 2" or huge 63mm sq. 52mm would be nice. I can't fit 63mm in my Baader UFC trays. I read the ULTRA is more narrow? I wonder if the older (not ULTRA) would be better for fast scopes? I shot the Pleiades last night right near a full moon. Around 900 seconds at 0 gain and they looked great. EXCEPT - very little to no nebulosity??? Normally with an L-pro 60-90 seconds and it's loaded with nebulosity. I wonder if this is a wavelength shift on fast scopes? = ( The night before I shot 7 targets as a test. 3-6 frames on each to see what colors I would get. (I hate monotoned "RED" nebula) typically recorded with OSC cameras. I was fairly pleased that most targets offered more colors than red. I shot very few subs on each... 600 sec per sub, no darks no flats, and stacked them to see for a test. (I'll try to attach). Then I had it go to M42 and shoot the rest of the night while I slept. (that one will be more like 600x30 subs). Conclusion. YES, it's amazing at filtering out LP. MOONGLOW - unwanted light. But at the expense of LONG exposures. (yes NB filters on mono are long too.) But my fast nb filters on the mono camera are quite short. It has its TRADE OFFS. I will keep it and will recommend it even at this price. But be aware of the weaknesses. It's not for all targets. (WELL neither are NB filters - I mean who would use NB on the Pleiades? ME! I sold my L-pro and Lenhance to get this and wished I had kept one or both of them. I'll probably buy another L-enhance too. RASA 11 / ASI094. no darks or flats in the attached examples. I'll keep testing. Last night I shot the horsehead but have not looked at the subs yet this morning. - Lucille R. Dressander Observatory, Grand Rapids, MI. USA.