Product Reviews
Customer Reviews
Write a Review
Ask a Question
Filter Reviews:
light pollution
filter
mount
chance
ZWO ASI071MC
Color CMOS Camera
Southern California
Esprit 120MM
Kurt
bottle
08/08/2021
Mark

United States
My first attempt of the Eastern Veil Nebula
I live in a bortle five sky in Southern California. This filter prevents the light pollution from ruining my astrophotography time in my backyard. Kurt convinced me to purchase this filter. I'm using a Sky Watcher Esprit 120MM on a EQ6-R mount with an ZWO ASI071MC Color CMOS Camera. This was truly my first image processed in Photoshop.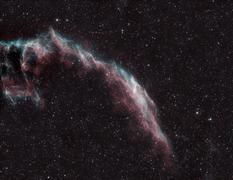 11/19/2020
Neil

United States
11/17/2020
Neik P.

United States
Light Pollution Killa.
I took a chance on buying this filter to try to combat the bottle 8 light pollution in my area. So far, it has not disappoints me yet. Figuring out the optimum exposure time and gain for it still an uphill challenge, but soon will conquer.
03/04/2020
Kurt A.

United States
I'm a firm believer in the triad
I've always done narrowband with a mono cam, so at first I was a bit skeptical. I decided to jump on the hype train and see what it was all about. The hype is real my astro friends! I have taken images with this filter using just a normal dslr and i am just amazed how I can do narrowband Astrophotography with just a DSLR. Now I haven't used an osc yet but I believe it would be even better. This filter is perfect for those wanting to image in their backyard with a DSLR or color camera. We've all been there before; it's clear at the dark site but its hours away and something came up where you couldn't spot the gas for the trip. You feel defeated and sad that you can't image that night. But now you have not to worry of those moments as now you'll have a filter to help you at home even in the most severe light polluted skies. This filter is well worth the price and costs much less than getting the separate halpha, hbeta and oiii filters. It also will cost much less in the long run than all those trips to dark sites in gas and save you wear and tear on your vehicle. I'm a believer! Tell em Kurt sent ya!