Product Reviews
Customer Reviews
Write a Review
Ask a Question
Filter Reviews:
filters
camera
1.25
coma corrector
ASI Studio
products
Astronomik LRGB 1.25
exposure plan
shipping
filter selection
09/27/2021
Bradley M.

United States
Zwo EFW
Very good, it allowed me to use different filters easily. Attaches directly to my ASI533MC camera.
05/13/2021
Kevin D.

United States
The ZWO 5 position electronic filter wheel is excellent
The filter wheel was packaged very well. Insertion of the filters was quite simple. The filter wheel was incorporated into my imaging train quite easily. Drawing power from the ZWO camera is a real plus as it avoids another cable into my laptop. The filter wheel functions smoothly and quickly and has yielded excellent results to date.
10/02/2020
Kyle H.

United States
Works well, easy to use!
I've only had this filter wheel for a few days and used it a few times, but it's already been well worth it. It's very easy to set up with filters (in my case, Astronomik LRGB 1.25" filters, also purchased from OPT), just take care not to lose the tiny screws when installing them. The wheel is practically plug-and-use and works nicely with ZWO cameras and the ASI Studio software. All you need to do it plug the wheel into the camera or PC, manually set the filter selection or set it up in the exposure plan, and you're set. The wheel itself is sturdy and quiet when moving and is simple to attach to the camera and scope or coma corrector. OPT's shipping was fast and well-packed, which was great at a time when so many astro products are backordered. If you're looking for a simple filter wheel that'll also save you time in astrophotography, this may be what you need!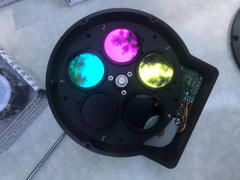 07/16/2020
Byron L.

United States
great filter wheel!
I have a manual filter wheel, but it was a lot of work and time to carefully move the wheel, and many times I had to reposition the image. For planets, this gave Winjupos a real workout, and made processing tougher. Now I pick the filters I want on Firecapture and things go quick and smoothly.
04/02/2020
Jerry C.

United States
ZWO Five Position Electronic Filter Wheel-1.25"
Easy installation, takes up very little room in the optical train, very user friendly and solid construction. Works great for me and my Explore Scientific 127 mm APO refractor. Highly recommend.
01/31/2020
Michael M.

United States
Great filter wheel
I like the filter wheel. I have it connected to my ASI 183mm pro usb hub on the back of the camera and when you connect the camera to the computer it will also connect the filter wheel. I can confirm that you can screw in 1.25" Astronomik filters 6nm narrow band just fine. That's the filters I use. I had trouble getting the clamp ring attachment off of the camera side of the wheel to the point that I thought it was permanent. Eventually it came unscrewed with effort, so if it seems tight keep trying. Maybe I was a little light because I didn't wasn't to break it.