Product Reviews
Customer Reviews
Write a Review
Ask a Question
Filter Reviews:
scope
build quality
experience
optics
picture
case
astrophotography
questions
Service
imaging
02/03/2021
frank r.

United States
WO Z61
Made Very well, enjoy the portability of this scope
BD
01/30/2021
Ben D.

United States
Fantastic for astrophotography, and a compact package for visuals
High build quality and incredible for astro-imaging, or even using for visuals...all in a compact package. If imaging, get the field flattener (which also includes a 2 in filter holder). For visuals, you'll need a diagonal and you can get the M54 Rotolock adapter, or just keep as-is. Overall, a great compact setup!
01/18/2021
Anonymous

United States
Z61
Great product as promised.
01/06/2021
Richie M.

New Zealand
z61
Very nice scope. Great build quality. Awesome service and answered my 5 million questions lol.
12/17/2020
Frank

United States
61mm doesn't get any better
It acts more like a 161mm aperture than a 61! Images are sharp as sharp can be, there is really hard to find anything to complain about. If you're starting out with astrophoto or even if you're advanced, or you want to take your gear to mountain climb, it doesn't really matter. This thing is a handy little thing that won't let you down! Easy to handle, easy to carry, mounts to lighter tripods, outperforms all the beginner scopes I had. Also fantastic for daytime landscape photography. Made a picture of a building - not even sure how far away- but hard to see with ***** eyes and it came out so pure and sharp. Here is a shot 50 seconds (no stacking done here) with a DSLR (PENTAX) camera attached to this scope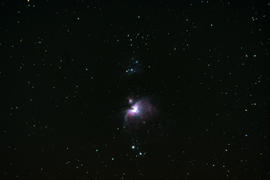 10/08/2020
Dan D.

United States
Beautiful Optics and Extreme Quality for the price
Absolutely a wonderful experience all the way through. I bought my 61II APO as my first "real" optics set for Astrophotography. Shipping was very rapid in comparison to everything else on the market and I had my optics within a couple weeks (I'd honestly say less than two weeks). My god the build quality is to die for. Beautiful coloration and the quality of the materials is top notch. At first I thought I got sent the wrong scope. Everything told me I got something more than what I paid for. Hand written sign off for quality checks, individual signature card for quality control for each piece of the optics, carrying case, the works. 100% earned my LIFETIME business for optics.