Product Reviews
Customer Reviews
Write a Review
Ask a Question
Filter Reviews:
adjustments
iOptron SkyGuider Pro
alignment
star tracker
anyone
engineering
base
improvement
price
mount
02/10/2021
steve m.

United States
12/06/2020
Daryl P.

United States
Excellent quality but expensive wedge
I purchased this wedge to replace that of my Star Adventurer Pro with a higher-quality, precision unit that hopefully would aid my obtaining the best polar alignment possible, while locking down the adjustments solidly. I especially appreciate the azimuth locking lever that is otherwise missing from the Star Adventurer wedge. My first use tonight, showed signs of improvement, as I noticed further reduction of the small star trails on 3-minute exposures captured with a Nikon D850 and Sigma 150-600mm Contemporary zoom. I do attribute the improvements relative to the Star Adventurer wedge as being due to this higher precision wedge. For being no more than it is mechanically, I do think the price is steep and it remains early to tell how well it will payoff in improving my astrophotgraphy results with a DSLR and zoom lens, but I feel optimistic from tonight's run.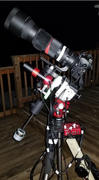 10/23/2020
Michael J.

United States
Awesome upgrade
Anyone using the Ioptron SkyGuider Pro should consider the WO High Latitude Base. The engineering, weight, and overall design is a significant step up from the OEM. An essential component for a portable rig using the RedCat 51.
08/31/2020
William C.

United States
WOW
William Optics Wonderful Simple as that, he should make Swiss Arca release clamps and tripod ball hesds.
08/25/2020
Kerry K.

United States
So so, unfortunately.
Frustrating. When you finally get the iOptron and it's polar scope aligned so that Polaris is here it should be in the reticle you have to tighten the longitude and latitude handles on the William Optics wedge and everything shifts by a few degrees. Then you loosen, align again, tighten the handles and everything shifts, etc etc.
07/31/2020
Charles L.

United States
Williams Optics High Latitude ***** Style Base Mount
I found it more solid and easier to align to the pole than the standard iOptron base. It makes setting up for photography quicker. I'm very satisfied!