Stellarvue Dielectric Star Diagonal - 2"
2" Dielectric Star Diagonal
Uses a twist-lock to keep your eyepieces in place
Includes a 2" to 1.25" adapter for use of 1.25" eyepieces
Want Help?
Just ask one of our sales reps
Stellarvue Dielectric Star Diagonal - 2"
This Dielectric star diagonal (2-inch barrel) from Stellarvue uses a thick, over-sized mirror polished to 1/10th wave. The mirror has a protective, dielectric coating with 99-percent reflectivity. The body has carbon fiber sides. It has a Collet-type twist lock chuck on the 2-inch eyepiece tube and the deluxe 1.25-inch compression ring adapter is included. Both the 2-inch insert tube and adapter have filter threads. These diagonals are double tested at Stellarvue for perfect alignment and performance. 
Star diagonals are a critical component of any refractor.  The performance of an otherwise excellent telescope can be seriously compromised using a diagonal that is misaligned or pinched. Each diagonal and erecting prism Stellarvue sells is tested for alignment and will preserve the exceptional quality of your Stellarvue telescope.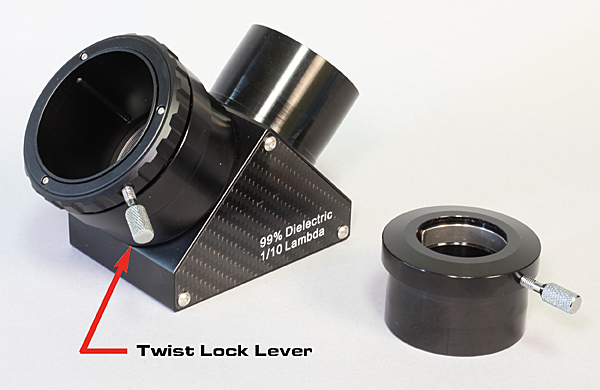 The D1028ECF uses a twist lock Collet. Rotate the twist lock lever counter-clockwise to open. Insert the 1.25-inch adapter or 2-inch eyepiece and then rotate the lever clockwise to tighten.
The two inch insert tube has filter threads and a safety taper that will more accurately seat the diagonal and tend to keep it from falling out accidentally. Make sure you tighten the lock screw(s) when installing the diagonal in a focuser.
This diagonal comes with a 1.25-inch adapter allowing you to use 1.25-inch eyepieces. The adapter uses a compression ring and has an insert safety groove and filter threads. Some Barlows have a long insert tube. Always check before using them to make sure they do not strike the mirror.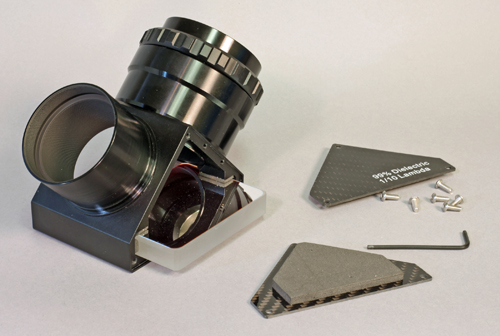 The thick mirror is easy to access for cleaning.
Instructions for cleaning:
Simply remove the side screws using a 2 mm Allen wrench and pull off the carbon fiber side plates. Push on one side of the mirror and it will slide out the other side. 
Hold the mirror only by the back and edges. Never touch the surface. Remove the loose dust from the surface with air from a bulb syringe or bulb blower such as a Rocket Blower. Using a soft camel hair brush about 1-inch wide while blowing with the bulb blower will help remove particles.
Never blow on the surface with your breath, canned air, or from an air compressor as moisture drops will spot the surface.
Once you have removed particles, apply reagent grade acetone to a lens cloth. Gently and very slowly draw the cloth across the mirror. Do not apply too much pressure when wiping the surface or you will scratch the mirror or coating. Follow precautions necessary when using acetone. Be advised that in cleaning the mirror, you will not end up with a pristine surface if you wipe too fast. With time you will learn how to avoid streaks. Some residual streaks may remain so only do this cleaning if necessary.
SPECIFICATIONS
| | |
| --- | --- |
| Accessory Type | Diagonals |
| Angle | 90 degree |
| Diagonal Barrel Size | 2" |
| Manufacturer | Stellarvue |
Customer Reviews
Write a Review
Ask a Question
01/17/2020
Gabriel C.
United States
Well built and accurate.
Very nice construction. Arrived well collimated. I am growing to appreciate and enjoy the 2" twist-lock feature. All connections feel secure so I can worry less about dumping valuable EPs accidentally. I am happy with the purchase.