Product Reviews
Customer Reviews
Write a Review
Ask a Question
03/10/2021
Linhao M.

United States
Excellent for visual, but quite a big guy!
I haven't used it under real dark skies, but it already gives me astonishing view of M42 and M45 in Pasadena, CA (Bortle 8-9 skies). The GoTo is very easy to use and the view is stable and sharp. The OTA and the base each weights about 50lbs, so it is less enjoyable to move this big guy around. I bought a hand push dolly from Amazon to move it, which helps a lot (if I'm not moving it upstairs). I guess this is the biggest scope I can handle without other people's help right now. Very good overall.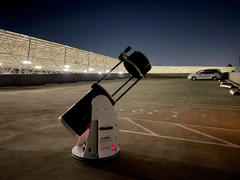 05/30/2020
Dennis S.

United States
Excellent service
Ordered a Skywatcher 12 synscan goto. dobsonian..OPT had celestron drop ship it......very happy with purchase....excellent customer service and sales team. Will be doing business with them again!