Product Reviews
Customer Reviews
Write a Review
Ask a Question
Filter Reviews:
mount
everything
purchase
setup
experience
EQMOD
questions
exposures
nights
Delivery
07/30/2021
Elliott L.

United States
Perfect for First EQ Mount
This mount has been amazing. I was using the iOptron Skyguider Pro with my Zenithstar 61 (Z61) and wanted to move up to an equatorial mount. I'm still using the Z61, but I plan on upgrading to a telescope in the 18-20 lbs range. The hand controller is great, but I run everything with the ASIair Pro and iPad now.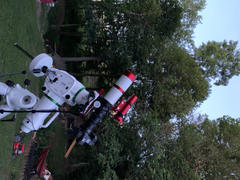 04/15/2021
Anonymous

United States
Good for a newbie
So this was my first mount. I had no clue how to use it but going on cloudy nights I was able to see all the things I did wrong like trying to move it with the clutch on. Even after my misuse I found it was very forgiving.
04/12/2021
Danny H.

United States
Soon as I bought I got nothing but cloudy nights
I love staring at it in my room! Can't wait for a night when I'm off and it's not cloudy!!
03/23/2021
Brian S.

United States
Review after 3 months
I received my EQ6R Pro in Jan 2021 from OPT. I have had the opportunity to use it several times both on my dedicated pier and while traveling. This guy is a bruiser to lug around but the positive side of weight is its accuracy (less than an arc second with auto guider and PEC calibrated) payload and stability. The EQ6R Slews accurately and quietly. I use the ASIAIR Pro through the USB port. No problems with connectivity and works smoothly. Here is my issue. The mount head to the tripod saddle is poorly designed and worse poorly manufactured. Its just sloppy, the adjustment screws are sloppy but with that said precise polar aliment CAN be achieved and it stays in place once its locked in. This is why I cannot give the EQ6R-P a 5 star rating. Would I buy it again. YOU BET!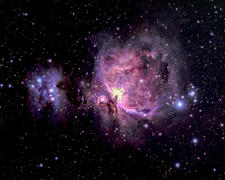 03/20/2021
Rich T.

United States
03/20/2021
David O.

United States
Almost perfect
Disappointed that I can't use the faster USB2 connection (115200 baud vs 9600 baud, so pretty big difference) with my ASIair Pro, due to the change in chipset behind the USB port on the mount - Raspbian does not have a driver for it yet, so I'm stuck with laggy remote response until that gets updated, and rolled into the AAP OS. Had to buy an EQMOD cable as a result. Luckily, I was doing research before it arrived, so I knew to get the cable. SkySafari performs very poorly once the mount is connected, and I suspect it's this slower connection causing it because SS works fine right up to the point where I tell it to connect to the mount. I only have about 9 lbs riding on this mount, so less than 25% the rated capacity for Astrophotography, and it can't track reliably for more than 30 seconds unguided with PA accurate to under 10 arc-seconds and perfect balance in both axes. At 60-seconds, I had to throw away just over 50% of frames, and that was at less than 45 degree declination, where targets don't even move as fast as near the Celestial Equator. I had hoped for at least consistent 60s unguided subs for this price. I picked up an OAG, so it won't be a problem anymore, but it's just another added cost that I feel is pretty much required for this mount. Once I got guiding set up, the scope was able to maintain 1-2" RMS in average seeing, although it did occasionally spike as high as 3-4. This was without any PEC training performed because I don't believe I can do that using it with the ASIair. Maybe once I recover from this spend, I'll look into using a NUC instead of the AAP to gain access to PEC functions, but the AAP is just so convenient. Upon arrival, I gently wiggled each axis with the clutches tightened - the mount had no discernable backlash in RA, but had noticeable backlash in DEC. From what I've read, it seems pretty easy to fine tune that, so I guess that's good. Other than those few things, it's a very solid mount, and the weight capacity (44lbs for AP) means it theoretically can carry pretty much any scope I'd ever be able to afford anyway (although I'm not sure if it can really handle that much based on its performance with only 9lbs). This scope is built solid, and is very heavy. That's good if you have an obsy or rolling shed, not so much if you have to disassemble everything and bring it back into the house after every session like I do. In hindsight, I probably should have gotten a lighter mount until I can build a new shed with a pier to put a mount this heavy on. I just imaged with it last night, and decided I'd stay home all day to keep an eye on it so I could leave it outside (clear skies again tonight), just to not have to bring it in and back out again. In hindsight, I feel like I probably could have gotten similar performance out of an ExosGT2-PMC with my relatively light scope, guided or otherwise. Also, when slewing at full speed, the sound it makes is not a constant tone, like I would expect. I'm not sure if this is normal, as I've never owned a mount with stepper motors, so perhaps I just "got a bad one", as at this price point, this is still a mass-produced, non-premium mount. If it's normal, well, I'm sure glad I didn't buy a cheaper mount, as I probably would have been happier with my Nexstar 6se's stock alt-azimuth mount. Aside from being way heavier and impossible to carry outside fully assembled, this is definitely still an upgrade from that. Once everything is set up properly, the pointing on this is way more accurate than the Nexstar mount, I just wish the unguided tracking was too.