Product Reviews
Customer Reviews
Write a Review
Ask a Question
Filter Reviews:
filter
skies
light pollution
results
Moon
imaging
design
performance
exposure
subs
10/12/2021
Ryan N.

United States
Amazing Filter!
Before using this filter I used to always have to push the color saturation in my images but not anymore. I haven't boosted color saturation at all with filter, the colors already come out so vivid! The design of this filter is great. I have a RedCat, which was super easy to mount this filter onto, just screws right in. Just required a little change in focus and I was off and imaging.
10/11/2021
Richard S.

United States
Made narrowband work so much easier
I had started out with separate Ha and OIII filters for use with my One Shot Color camera, but quickly tired of the extra exposure time and nuisance of aligning images. Also the overall cost of the separate filters was more than the expense of the single dual narrowband L-eXtreme filter. Wished I hadn't wasted the money and just bought the L-eXtreme filter in the first place!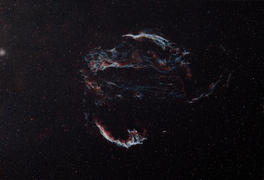 09/29/2021
Rick B.

United States
L-eXtreme Filter
I've had a chance between the clouds to use the L-eXtreme with my Zwo 533 Pro and WO 73. I was very happy with the mages of the heart and soul nebula under 98% moon. 4 minute subs. I'm fortunate to shoot under bortle 1-2 skies. I'm very happy with the results.
09/16/2021
Joe F.

United States
Fantastic
The first DSO, I used it on was the Dumbell Nebula, and I was shocked exponentially. I am not tech savvy but only know that in my Bortle 7 skies, the Dumbell was so detailed and brightly colored that it looked better than any image I took in Bortle 1, 2, or 3 skies. So I give a 10 star on a 5 star scale. I will know more about Extreme as time goes on, but for now, I see where the performance far outweighs the cost. Extreme is the only filter I have ever used with this unimaginable performance experience. THANKS!!
06/24/2021
William C.

United States
No Greasy Filters!
I gave up using this excellent 2"filter in my Radian 61 filter well and had it reset in a Canon Drop-In Filter. Now I can use the filter without greasy finger smears and use in several other lenses.