Product Reviews
Customer Reviews
Write a Review
Ask a Question
Filter Reviews:
filter
light pollution
gift
object
part
subs
exposure
price
instrument
color
01/01/2021
Robert S.

United States
I like this filter
Awesome for light pollution and full moon imaging of emission nebulas.
11/17/2020
Richard M.

United States
Outstanding service
Did not use it was Purchased as a gift. I am sure he will love it
11/17/2020
Anonymous

United States
How to **** Light Pollution in a Bortel 8 Zone
This filter has made my life. Using a DSLR is tough especially , long exposures with intense light pollution. I used to manage a 30 sec to 1 minute exposure if I was luck and take 200 - 400 subs. With the L-Enhanced filter I get 5 - 7 minute exposures without the pollution with get ISO levels. It has been worth every penny and more. Unmodified Nikon D7500 DSLR with ISO 1250, 6 min exposures and 80 subs using a 250mm telescope; the picture was processed with only 3 levels adjustments (Stretches) and a1 curves adjustment. A picture is worth a thousand words!
11/17/2020
David B.

United States
11/17/2020
Anonymous

United States
This is not an ideal filter for fast systems, but great for slower ones
I originally purchased this filter for use with my ASI533MC Pro OSC, primarily on the RASA-8 and on an F4 newtonian. In large part, this was based on the specifications stating "Optolong believes the design of L-eXtreme filter would be a better choice for fast systems at a competitive price". In fact, while the Oiii performance at F2 and F4 is good, the Ha band is already attenuated at F4 and is markedly so at F2. Oiii predominates progressively with decreasing F-ratio. On a predominantly Ha object, exposure times with the F2 instrument are very similar to those on a F5.6 instrument of the same focal length for similar red levels, due to passband shift with increasing entry cone angles. In fact, the best pictures that I have had from this filter are with slower instruments. With those instruments, its performance is excellent.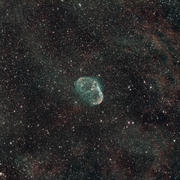 08/25/2020
Nicholas B.

United States
Great filter for the price, with a minor "issue"
Used this filter twice on emission nebulae from my light polluted area north of Detroit, amazing contrast even when the moon is near full! Almost no gradients from light pollution or moonglow which is surprising, very small stars but I wish I could give this 4.5 stars because I have noticed some small star halos on brighter stars in the star fields surrounding nebulae. Not a big issue to me but some may care about this more than I do. Great filter overall though, will continue to use this.