Product Reviews
Customer Reviews
Write a Review
Ask a Question
Filter Reviews:
filter
light pollution
exposure
Radian
Optolong
instrument
color
lenses
performance
design
06/24/2021
William C.

United States
No Greasy Filters!
I gave up using this excellent 2"filter in my Radian 61 filter well and had it reset in a Canon Drop-In Filter. Now I can use the filter without greasy finger smears and use in several other lenses.
05/17/2021
Neil v.

South Africa
My first Astro image.
So I spent almost a year researching and learning the theory behind astrophotography. Finally got the last pieces of the puzzle yesterday in the form of a star tracker and then the universe rewarded my patience with clear skies! So here my very first attempt at astrophotography. Carinae Nebula. Straight from Sequator without any post processing. Bortle 7 zone. Radian Raptor 61 with Optolong l-eXtreme on a Star Adventurer 2i pro. Stock standard Nikon D5100. 30 second exposures at ISO 1600. Just over 1 hour total exposure. The results speak for itself. Definitely worth the price tag!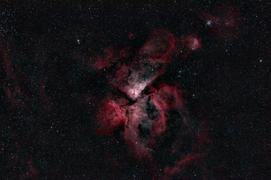 03/02/2021
Stu P.

New Zealand
Nice even in dark skies
I ordered this filter through OPT to be used in conjunction with my colour camera (ASI2600) and canon 6D so I could image during a full moon or in less than ideal conditions due to a sports club nearby which really has a lot of light flowing into the sky on most weekend nights.However, I was really keen to try this out in dark skies as well to see how the Ha performs in a f4.5 system.I was told that I was wasting my money and this only works in very light polluted skies. Even though I had to wait for an age for the filter to arrive that wasn't OPTs fault but I actually forgot about this filter till one day it turned up in the mail(months later) I paired this with a WO Redcat 51 and ASI2600MC camera on a ioptron GEM45 mount (all purchased at OPT). I have spent a few nights just doing testing and have not completed an image yet.What I have seen so far impresses me and I am looking forward to really getting into some long exposure imaging in the coming months. The sample images below are all 3X15 mins and are only test images.Only simple stretching was done and I overdid that to look at the detail.Please forgive that the ordination was different as the images were done on different nights.I used the L-eXtreme on a full moon night while the no filter images were on a moonless night.The image of the LMC was taken in dark skies. I am happy with the filter and it clearly shows the Ha and OIII data.I am wanting to do more testing in other conditions but for colour cameras, even in dark skies it works well and saves changing to different filters.The major advantage for me is that a full moon night is not wasted. I can highly recommend this filter
01/01/2021
Robert S.

United States
I like this filter
Awesome for light pollution and full moon imaging of emission nebulas.
11/17/2020
Richard M.

United States
Outstanding service
Did not use it was Purchased as a gift. I am sure he will love it