Product Reviews
Customer Reviews
Write a Review
Ask a Question
Filter Reviews:
mount tracks
auto guide port
audiostar controller
polemaster
payload specs
motors
complaints
deal
price
mount
B
01/07/2021
Bill

United States
Goog Value for the money
I bought this mount primarily because of the payload specs. Can it really hold20- 33 lbs and track effectively? So far so good. The mount works well. Motors are not that noisy, I don't see what the big deal is about. I did adapt the QHY polemaster to the scope and that is far better than the built in polar scope. Other than that, the mount tracks very well, set up is easy and so is using the audiostar controller. Also has a auto guide port, all for a very good price. No complaints
11/05/2020
Cleston N.

United States
Save yourself from the frustration
Hi Opt you know that I love you guys but I have to say the **** truth that no one want to talk about. This mount don't deliver what's supposed to. Simple, just put your money somewhere else and save yourself from the frustration to have something bad designed and engineered. Just read some reviews on CN and you'll see what I'm talking about. From too noise to inverted circuits so you have to use exclusively Meade cables to connect it on your Pc or Mac. Just don't buy it. Again... OPT team I really love you guys!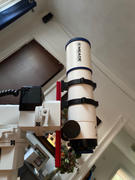 05/18/2020
Anonymous

United States
Meade LX 85
Mount delivers as advertised. Both Dec and RA bearings are smooth but drive motors are somewhat noisy. FYI:This the first equatorial mount I installed a Meade LX10 EMC 8" SCT. Had to fabricate a weight and mount it opposite the 8x50 scope to balance SCT. I also recommend a good level, the provided Disc bubble level is not accurate. Love the Audiostar! Easy setup. I definitely recommend this mount.
04/02/2020
George L.

United States
Meade LX85 GoTo German Equatorial Mount
I was torn between and IOptron Goto mount and this one but since all of my gear is Meade I decided on the LX85. My impressions are the tripod legs need a heavier screw to keep them in position. The Meade Audiostar controller is slow to respond to initiation and get going. When the telescope is set in the home position and the date, location, and time are set the first star align was Sirius and the telescope pointed way off the point. That was probably my fault. The slew motors are noisy at the higher speeds Most of the reviews I read confirm this. On the positive note it carries my Meade 8 inch SCT with a ***** mounting bar and requires an extra weight to balance the OTA. I can not see the Pole Star from my house so Polar alignment is hap hazzard. It is nice to use with my William Optics Zenithstar refractor since it is relatively light. More experience should iron out these difficulties.