Product Reviews
Customer Reviews
Write a Review
Ask a Question
Filter Reviews:
shipping
mount
everything
weight
cameras
backorder
firmware
imaging platform
foundation
ZWO ASIAIR Pro
07/28/2021
Alan F.

United States
CEM40 G
I own a EQ6 r Pro and because they are on an extended backorder I got this mount. Let's just say it's no EQ6!! I like it but will like it more when they update the firmware so I can plug it into the asi air pro … right now it has to go threw a hub of sorts … not happy about that.. One other thing.. it should come with two weights…being able to handle a 40 pound payload… needs more weight I have a total of 22.5 pound assembly on it and one 11 pound weight don't cut it. Shipping took a little longer than should have but it was free that's important when buying a heave mount. It came with one minor dent in one of the legs on the pier .. not a deal killer but disappointing.. thanks OPT
12/08/2020
Michael L.

United States
iOptron CEM40: Building a new Astrophotography Platform
iOptron CEM40 appears to be a well made and sturdy mount. So far everything works as advertised. Functions really well with the ZWO ASIAIR Pro and ZWO Cameras, which is all new hardware for me. Having a great time working step by step to assemble a new imaging platform with the iOptron CEM40 as the foundation. OPT has been great, good communication and fast shipping which really helps to keep things moving forward. Thanks!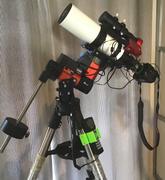 06/20/2020
Paul A.

United States
First light on new mount, the ioptron cem40
I did a huge amount of research on mounts for doing astrophotography. My first mount was a Celestron CG-5 and it just was not a reliable platform for photography. I got the ioptron because it is so much lighter than any of the others that are capable of carrying 40 lbs of gear, and has a reputation of having excellent tracking and guiding ability. My first test shows that it deserves all its accolades. Guiding averaged 0.1 pixel rms, similar to even the most expensive observatory mounts. Controls are precise and so easy to use compared to the Celestron. Ipolar is super easy to use to get precise polar alignment. The 1.75" tripod especially when you attach the accessory tray is rock solid, and I can easily carry the whole thing out to my back yard for imaging. Great investment if you want to get serious about imaging and especially for portable locations.