Product Reviews
Customer Reviews
Write a Review
Ask a Question
Filter Reviews:
mount
grease
quality
tripod
Celestron
best
touch
problem
unit
alignment
CG-4 mount
I'm a newbie so getting used to it will take some time and practice which is what I expected. The mount and tripod are built very well. The entire thing is smooth and solid. It holds my VX-6 and motors with ease.
01/01/2021
Hal M.

United States
Celestron CG4
my 2nd such unit, replaced an old C4 mount that I damaged trying to repair. this unit is way better than the one it replaced, tripod is very stable compared to the old unit. Minor gripe is old unit had motors placed out of the way, this unit sticks the RA motor out on the housing, exposing it to more possible hazards.same old ****** plastic cover over the polar scope holder,that falls off easily.sigh.oh well. overall, very happy with this version of an old time standard. smooth motions on both axis, pleasant color, if yours is sticky replace the black grease they use from WW2 firearms stock,then adjust the tension on the worm gear.big upgrade on my C4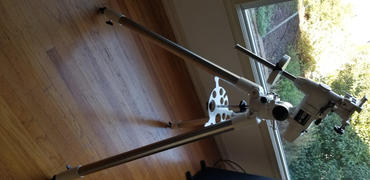 12/10/2020
Daryl

United States
One of Celestron's Best!
As an astronomy addict for nearly six decades, I have used mounts of every kind ranging from a fence post rig using a young kid's slide-tube 60mm refractor to large SCT fork mounts. Include in that the various Dobsonian boxes as well. I do know an excellent mount when they appear now and then. Celestron far surpassed their competitors with this basic Equatorial system built specifically for small to mid-range sized OTA's. I suggest one limit insrument apertures of no more than an 8" Newtonian or a 6" SCT if precision is required in either viewing or photography. A previous reviwer giving a 4-star rating,mounted a 102mm refractor with a 1000mm tube length. So it is certainly adaptable. When using the dedicated CG-4 Motor Drives (highly recommended), going beyond the recommended OTA + augments obviously significantly increases opposing torque force. That is readily exhibited in tracking error, not to mention the damaging of the drives themselves. Motor drivn tracking with the CG-4 is excellent. Using but a center-hole alignment without a centered bubble, both scope types and sizes mentioned previously slewed and tracked effortlessly with but a touch of PEC during long-period, deep space photography. Simply perfect for shared visual sessions. Pardon what seems to be a sales promotive presentation. I seriously rate this mount as one of the BEST I have ever used. One previous reviewer reported a single-axis grease binding. Sadly, that is common in ALL Taiwan originated mounts, no matter the size or style. Why Celestron (as well as all other EOC suppliers do not "request" a corrective measure to this simple but serious problem? Obviously an industry-wide example of "acceptable" quality, a serious business flaw. With what could be a milestone setting ahead of its competitors' similar product-lines, Celestron's "toy" philosophy is so evident yet again.
01/16/2020
Anonymous

United States
Celeston cg4
I put a big 6 inch refractor on it. The mount is up to the task but I had to purchase an extra counterweight.
Goog service, too many popups
I got what I ordered and a whole lot of popups for thing I already had! Give me a break!
GREAT BUDGET MOUNT
Was a great starter mount for me. Would have given 5 stars except the DEC axis was INSANELY tight out of the box. It would creak and jump when trying to turn the slow motion knob. I disassembled my mount and regreased everything and tensioned everything properly. It moved buttery smooth after that! Adding a polar scope and the dual-axis motor drive really took it to the next level as well. With careful polar alignment (using polar scope & SharpCap) I was able to achieve 3 minute exposures with the motor drive. Not too shabby for a non-goto non-computerized mount!