Product Reviews
Customer Reviews
Write a Review
Ask a Question
Filter Reviews:
mount targets
tracks
The 11
price range
video outreach
precision CGX mount
Edge HD
viewing
pleasure
dozens
12/14/2021
Robert O.

United States
Great Mount but Beware !
In every way but one, this is a great mount. Unfortunately in my hands, it has a fatal flaw which, fortunately, is easily correctable. The problem is that I am simply unable to tighten the locking levers for the tripod legs enough so that they do not slip. I almost had a catastrophe with my 9.25 Edge HD when one leg started slipping, and the entire unit started to tilt. Fortunately, this happened slowly enough so that I was able to catch it and prevent everything from falling and ruining my telescope and possibly the mount itself. I am not sure if I received a defective mount, or if this is a basic design flaw, but just looking at the small diameter locking screws, which are uncomfortable to tighten (they need a round knob design) does not give one confidence that they might not slip at some point, especially when extra accessories are mounted. Obviously, failure of any one of the legs would result in a very expensive event. I did not try to use pliers to tighten, as I did not want to dimple the leg shaft. I am actually amazed that Celestron skimped on the one point of failure that could ruin an entire set up. If this was a defective blender that I could have easily packed up and returned, I would have, but obviously returning such a heavy mount is impractical. So, after a lot of thought and research I found a very simple and low cost solution. I ordered three stainless steel split clamping collars 1-1/2" Bore Size, 2-3/8" OD, with 1/4-28 x 3/4 set screw. They come in regular steel for 1/3 of the cost of the stainless steel ones, but I did not want to have to worry about rusting. These tighten around the entire circumference of each leg, and I am quite confident that no slipping or failure will occur. I really hope Celestron totally rethinks the design of what is obviously a critical, and single point of failure ,part of this mount.
07/27/2021
Tony C.

United States
Heavy equipment
I like this Mount nice construction When I get Used to this I will give you a better update but so far nice stuff
03/18/2021
Robert D.

United States
A weighty review.
What can I say about a counter weight? It is doing what it was ment to do. Delivery was fast and in a timely manner.
01/24/2021
StargeezerSteve

United States
Definitely an Upgrade Over the AVX and SVP
As others have expressed, the CGX is most definitely an upgrade over the aforementioned mounts. With minimal PHD 2 tweaks I'm able to get decent guiding in all directions - and I'm still learning. With the AVX I could get good guiding only when pointed to the NE. The mount is about 2 1/2 times more heavy thus better stability. I use StarSense for auto-align (I'm lazy!) and was able to score an add on attachment allowing me to use my QHY PoleMaster w/o removing the forward handle. All in all I'm really enjoying this mount. My only con (4 stars) is that like my other Celestron mount it's somewhat stiff in Dec and RA - something I'll likely remedy with a hypertune service later. Whenever these are available again I highly recommend you grab one.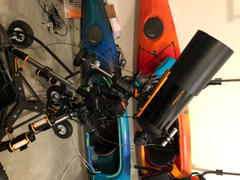 01/04/2021
JEFFREY H.

United States
Very Surprised
I was not expecting it until the end of January due to COVID slowing down or outright stopping supply chain activity. Actually received it before xmas! Also received the equatorial mount early, also slumbering in its shipping crate. I have not opened either box yet, as they are most safe where they are. Should probably open, inspect and re-seal both. Will be happy to review both when my concrete slab is poured, observatory (SKYSHED) is assembled, and we get to polar alignment, First Light, etc.
12/31/2020
Ray

United States
The price has gone thru the roof
What is being bought as an ota today, I received a cgem mount and ota for the same price in 2016