Product Reviews
Customer Reviews
Write a Review
Ask a Question
05/08/2021
EDWARD M.

United States
8"HD
After waiting for months, too many, I got a big package at the door, low and behold, the optic scope... Got the box opened and Wow, nice. I looked it over and was amazed with the tube. I went to mount it on the evo arm mount and the dove tail was too big for the mount, bummer, but after looking the tube over, I took the dove tail off my evolution and swapped them. When I ordered the scope, I said I need the narrow dove tail to fit the mount, ok done deal. Well never happened, but I got the scope any how. Now after mounting and getting it all ready, after READING the manual, took it outside and looked at the moon and what a view, so clear and perfect. I now have to wait for the weather to give me a break here in Hawaii. Now is the problem with the change in weather this year, will have to just wait for the right time. But I am happy with the unit, and have installed my starsence and auto focuser on board which makes it easier to operate. I did get the finder scope with the unit but its more of a problem to use that my laser pointer, and with that pin pointing a star is right on. Thanks to OPT for the Optic 8"HD, very happy to make the move and get it. Its worth the time of waiting, through the Trump screw up and being locked down all this time.
02/18/2021
Tim L.

United States
What a HUNK!!
They say once you go Black you'll never go back!! When this hunk of chiseled steel showed up at my front door .. I knew my nights would never be the same again... bringing better balance into my life and loving a good night under the stars, it's a match made in heaven.. I love the strong silent types with a rough exterior.
02/16/2021
Dave

United States
Good Reliable Mount
I've had my CGEM II for about a year. I do mostly imaging with it and it tracks very well. Auto guiding is very effective. I usually run sub frames at around 30 second exposures but routinely run them for an hour or more. There is very little error during that time. I mount an 11 inch edge with hyperstar which is about the maximum the mount can handle. However I've never felt like it's overloaded even with camera, guide scope, asiair etc. hanging on it. Balance is important as I find you need to pick your target and then balance it with a slight over heavy on the front end. If you're having any trouble, spend a bit more time with balancing. Definitely a great mount for the price.
02/12/2021
Michael L.

United States
Great for 2008, not 2021.
I've had my CGEM II for now about 7 months, and it has been a mess to deal with. I would recommend this mount ONLY if you're doing strict visual observing, and not astrophotography, as this mount is IMPOSSIBLE to guide under 1.5-2" RMS I've hypertuned my mount, and it didn't help much. I'm using it with a C8 Edge HD, so not even loading it up, with perfect balance, and an Off-Axis-Guider, and it cant manage sub arcsecond guiding even on good nights, leaving me to do visual. Summary: A mount that looks sexy, seems promising, but fails to perform like its competitors- for nearly 100$ more, using technology that is far too outdated, (not even a USB port on the thing), and hostile towards astrophotographers using longer focal lengths. If you're looking at this mount, save the hastle, and the nearly 100$ extra for the CGEM, and go grab an EQ6R PRO, as it has a handle (doesn't sound like a lot, but trust me, it is NECESSARY for grab n go.), belt drives (A must for guiding), and so much more. I'm gonna go order my Astro-Physics Mach2GTO-L now.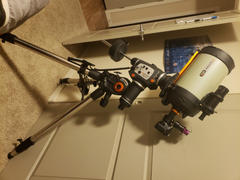 01/22/2021
Michael L.

United States
Amazing, Simple, High quality.
I've had my C8HD for about 5 months now, and all I can say about it are good things. F/10, While slow, can be overcome with long exposures. I'm using it on my Hypertuned CGEM II mount, ZWO OAG, ZWO M42 Filter Drawer, and Optolong CLS and it is having no issue doing exposures over 5> minutes. While it is a larger tube, it is surprisingly easy to handle due to the large CGE plate, and the handlebar that sits on the image train end of the scope, which makes balancing SO MUCH EASIER. Works wonderfully, and I can say without a doubt is probably one of the best scopes on the market. Images: Orion, 15 x 60s, The full rig, and M66 and 65 145 x 30s (poorly processed, one of my first shots with it).
12/21/2019
Donald K.

United States
Not yet
I will not have my observatory until March so have not had the scope and mount in observing mode. I have done the finder scope alignment and I do like the spring loading feature on the rear of the mount. The slewing is a little loud in speeds 8 and 9 but pretty quite in the slower speeds. The unit went together easily and is quite robust. I think the lock lever does conflict a little with the knobs to tighten the dovetail, but it is a minor issue. I will put it through it's paces come spring and maybe do another review.