Product Reviews
Customer Reviews
Write a Review
Ask a Question
03/18/2021
Robert D.

United States
A weighty review.
What can I say about a counter weight? It is doing what it was ment to do. Delivery was fast and in a timely manner.
02/16/2021
Dave

United States
Good Reliable Mount
I've had my CGEM II for about a year. I do mostly imaging with it and it tracks very well. Auto guiding is very effective. I usually run sub frames at around 30 second exposures but routinely run them for an hour or more. There is very little error during that time. I mount an 11 inch edge with hyperstar which is about the maximum the mount can handle. However I've never felt like it's overloaded even with camera, guide scope, asiair etc. hanging on it. Balance is important as I find you need to pick your target and then balance it with a slight over heavy on the front end. If you're having any trouble, spend a bit more time with balancing. Definitely a great mount for the price.
02/12/2021
Michael L.

United States
Great for 2008, not 2021.
I've had my CGEM II for now about 7 months, and it has been a mess to deal with. I would recommend this mount ONLY if you're doing strict visual observing, and not astrophotography, as this mount is IMPOSSIBLE to guide under 1.5-2" RMS I've hypertuned my mount, and it didn't help much. I'm using it with a C8 Edge HD, so not even loading it up, with perfect balance, and an Off-Axis-Guider, and it cant manage sub arcsecond guiding even on good nights, leaving me to do visual. Summary: A mount that looks sexy, seems promising, but fails to perform like its competitors- for nearly 100$ more, using technology that is far too outdated, (not even a USB port on the thing), and hostile towards astrophotographers using longer focal lengths. If you're looking at this mount, save the hastle, and the nearly 100$ extra for the CGEM, and go grab an EQ6R PRO, as it has a handle (doesn't sound like a lot, but trust me, it is NECESSARY for grab n go.), belt drives (A must for guiding), and so much more. I'm gonna go order my Astro-Physics Mach2GTO-L now.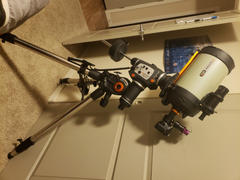 10/16/2020
Anonymous

United States
It's good
The optics are worth the price of admission, Crisp, sharp everything you're hoping for. My only suggestion for Celestron is to go back to larger set screws for the mounting plate and accessories.
10/09/2019
James P.

United States
cgem2 mount
I wasn't sure if I should get my old mount fixed or get a new one. I dropped the old one while moving. I'm glad I invested in the new one. It's built like the proverbial brick ....house.
Excellent service from OPT & Peter Meyers
Top notch.. best service; advice, product knowledge, accessory recommendations and overall communication.