Product Reviews
Customer Reviews
Write a Review
Ask a Question
Filter Reviews:
guide scope
RASA 8
mounts
accessories
problems
eye piece
package
exposures
focuser
spacers
02/08/2021
Pete A.

United States
Perfect wide field astrograph for the $$
Coupled with the ZWO ASI2600 MC-Pro camera, this astrograph is capable of tremendous corner-to-corner sharpness and contrast. I used to dream of owning a Tak FSQ106, but no more. Except for minor diffraction effects from the camera cable, the RASA 8 is superior in nearly every way. Shooting at F:2 is so spoiling - no more 20 hour exposures when one hour gets you just as deep. Be aware that proper scope collimation and camera tilt adjustment are critical for uniform sharpness. Camera back focus is also critical and will require proper spacers. There is some focus drift with temperature - so you will want to focus every half hour or so. Focus backlash and mirror flop are negligible. The Celestron motorized focuser works very well on this scope, and allows most capture software to auto focus quickly. You will want the optional top rail for your guide scope and other accessories. Bottom line: I am absolutely stunned at the ease of doing wide field (over 3 by 2 degrees in my case) astrophotography.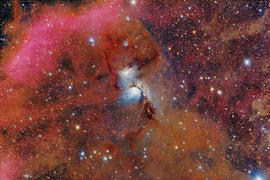 11/23/2020
Roger S.

United States
Non-Trivial Learning Curve
I bought the AVX, RASA 8" package and I'm using an ASI Air Pro. I thought that the telescope and mount from the same company would prevent problems. However, ASI Air Pro and the AVX (or CGX) mounts do have a problem working together. (ZWO is working the problem). Since the RASA can't use an eye piece (although the Guide Scope could) means that you have to learn to focus a CMOS camera first.
08/19/2020
Cleston N.

United States
Great! But...
Optics are excellent, but the plastic ring that holds the corrector plate is so cheap looking and warped that I almost sent it back. Overall is a great scope to have.
07/15/2020
Stephen G.

United States
Celestron RASA-8
Easy to handle. Great wide field views of Veil, North America Nebula, etc. with short exposures and low gain. Additional extenders needed to get the spacing right for the camera and tricky to figure out.
03/13/2020
Allen B.

United States
Wow...just Wow
I am using a MallinCam DS16c with my RASA 8" and it is phenomenal. Exposure times are down and I can see previously unseeable objects from my backyard. Very, very pleased with this scope.
ZWO ASI 183 PRO paired with the 8" RASA ... a match made for the heavens!
I am very happy with the 8" RASA! I added the Celestron filter for the RASA, the slide filter assembly and used a ZWO ASI183 camera. Placed on the Orion HDX110 with a 60mm guide scope and ZWO ASI290. I also tried it with the Sony a6300 camera which I found to have design issues with the adapter now that the Sony cameras have added the grip which rubs the retaining ring. Workable but annoying! John Glenn Astronomy Park, after the moon set. 8-9-19 and 8-10-19 I used the RASA on two nights. I can say, I was impressed with the 8" RASA and ZWO ASI183 combination! M31 was edge to edge in 120 seconds. M27 resolved picture perfect in 60 seconds. M57 was small yet amazing at 90 seconds. I also took several images of M33 ... 60 seconds it was a wispy fuzz, at 90 seconds it was pretty good, and at 120 seconds it was a picture worth sharing! I can't wait to stack a 20 frames of M33! ... ZWOair works well with the Orion HDX but don't forget the upload the latest firmware for both and add Skysafari 6 plus.