Product Reviews
Customer Reviews
Write a Review
Ask a Question
Filter Reviews:
flip mirror
part
accessories
suggestion
others
website
kind
money
system
flexibility
01/26/2021
Anonymous

United States
FlipMirror has Excellent design and build
the flexibilty being able to use different size attachments is very helpful… end couplings can accommodate M42, M48, and S52. the best part is the flexibility allowing any position angle on the in light path or the out path. it is easy to position a camera with a specific position angle relative to the scope and then position the flip mirror to a convenient position for viewing through the eyepiece port — no need to strain your neck. construction is very solid. may be a little more expensive than others, but very high quality.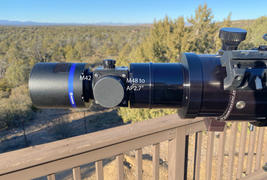 11/25/2020
Anonymous

United States
Be careful what you buy!
One of the most frustrating and maddening experiences I have ever had! I have still not been able to use the FlipMirror because I'm slowly figuring out the various connections required for my setup.. and this has required ordering parts that did not work for me, wasting time and money, etc. There has to be a better way of doing this! Perhaps each time it's ordered from you, ask the buyer how they intend to use it and suggest the connectors that will be required, so they can be ordered at the same time? Or add this kind of suggestion as part of the product literature on your website? OPT is fine, and I am hopeful that the FlipMirror will be as well. But I'm not sure I would have bought it if I had known initially that it would be so difficult to put it together so that it can work.
11/17/2020
Anonymous

United States
A Must Have for Astrophotography.
This item with the Baader 1.25" T2 Adapter w/Microfocuser is a Must Have for Astrophotography.
10/22/2020
Kevin W.

United States
Very functional
This is a well made product and I'd have given it 5 stars but the instructions on connecting the accessories are a little bewildering. I had help in getting attachments for it from an expert here and at the end, we just both hoped all the pieces would fit together. If you really understand the system and all the different attaching methods then the instructions will probably work, but for everyone else, not so much. All that said, I like the flip mirror and glad I purchased it.
09/21/2020
Jeff R.

United States
Extremely versital
Great addition to any astrophotography kit. After a little bit to configure all the connections with illuminated eye piece on the vertical port, camera connections on the back port, and guide camera on the bottom port- I can easily switch between viewing, photography, and built in guiding without having to swap out pieces.
CD
04/20/2020
CALIFORNIA D.

United States
Great Product, but requires many expensive adapters
The only reason I'm writing this review is to let future buyers know that you will need to buy at least 3 different adapters if you want to use this product (if you don't already have adapters). First you are going to need a nozzle to attach to your telescope with a T2i threading (min is 1.25" so I bought the T2i/1.25" Nozzle buy Baader for $35). To attach a Camera you will need an adapter that connects to a M48i or a T2a (I am using a NexImage 5mp by Celestron so I needed a T2i/1.25" eyepiece mount for $35). Lastly you will need an Eyepiece mount that has a MicroFocuser so that the eyepiece lens and the CCD sensor are at the same focal length so that when you flip up the mirror you don't have to focus the camera after focussing the eyepiece (I'm using 1.25" so I bought the Baader Eyepiece Holder with MicroFocuser and T2i threading ). the "i" means a Female/Internal threading and the "a": means a Male/External Threading. The instructions are kind of difficult to understand as far as knowing what adapter to buy but here is what i figured out: The top of the flip mirror is T2a that accepts T2i Adapters; the telescope side is M48i with an M48a/M48a adapter so that, when you buy it, the telescope side is M48e; The camera side is M48i with an M48a/T2i adapter which I unscrewed and put on the telescope side so that I could attach the 1.25" Nozzle with T2a onto it, also, attached to the M48a/T2i adapter is a T2a/M48a adapter so that the Camera side (just like the telescope side) is M48a on the outside when you buy it. After switching the M48e/T2i adapter to the telescope side I attached the M48e/T2e adapter so that T2a was on the Camera side and I attached the Baader Ultra Short Eyepiece Holder 1.25". It was pretty complicated for me to figure out and with taxes and shipping it cost me another $170 to get the correct adapters to just use the Flip Mirror. I understand they don't ship it with adapters because they don't know what kind of gear you have, but it would be nice if they sold adapter kits or wrote in their instructions a guide or table that had three columns that showed what adapters you would need for your specific setup. My setup is basically the "beginners" setup that is used to attach a 1.25" Telescope to a 1.25" Eyepiece and a 1.25" Camera. I feel like they should at least provide it as a kit for 1.25" setups like mine.