Product Reviews
Customer Reviews
Write a Review
Ask a Question
Filter Reviews:
flip mirror
part
accessories
suggestion
others
website
kind
money
system
flexibility
06/17/2021
Peter P.

United States
Baader FlipMirror II Star Diagonal
Excellent quality. Works right out of the box!
03/08/2021
William D.

United States
Baader flip mirror
Great product at a great price.Well made. I use it to switch between an eyepiece and my Nikon D200 DSLR Note that to make it work you will need more adapters than those provided.
01/26/2021
Anonymous

United States
FlipMirror has Excellent design and build
the flexibilty being able to use different size attachments is very helpful… end couplings can accommodate M42, M48, and S52. the best part is the flexibility allowing any position angle on the in light path or the out path. it is easy to position a camera with a specific position angle relative to the scope and then position the flip mirror to a convenient position for viewing through the eyepiece port — no need to strain your neck. construction is very solid. may be a little more expensive than others, but very high quality.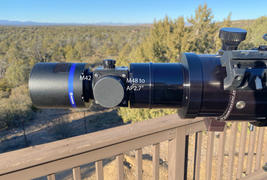 11/25/2020
Anonymous

United States
Be careful what you buy!
One of the most frustrating and maddening experiences I have ever had! I have still not been able to use the FlipMirror because I'm slowly figuring out the various connections required for my setup.. and this has required ordering parts that did not work for me, wasting time and money, etc. There has to be a better way of doing this! Perhaps each time it's ordered from you, ask the buyer how they intend to use it and suggest the connectors that will be required, so they can be ordered at the same time? Or add this kind of suggestion as part of the product literature on your website? OPT is fine, and I am hopeful that the FlipMirror will be as well. But I'm not sure I would have bought it if I had known initially that it would be so difficult to put it together so that it can work.
11/17/2020
Anonymous

United States
A Must Have for Astrophotography.
This item with the Baader 1.25" T2 Adapter w/Microfocuser is a Must Have for Astrophotography.
10/22/2020
Kevin W.

United States
Very functional
This is a well made product and I'd have given it 5 stars but the instructions on connecting the accessories are a little bewildering. I had help in getting attachments for it from an expert here and at the end, we just both hoped all the pieces would fit together. If you really understand the system and all the different attaching methods then the instructions will probably work, but for everyone else, not so much. All that said, I like the flip mirror and glad I purchased it.