PrimaLuceLab ECCO Environmental Computerized Controller for EAGLE
Want Help?
Ask Our Telescope Experts
PrimaLuceLab ECCO Environmental Computerized Controller for EAGLE
ECCO is the Environmental Computerized COntroller for the EAGLE that automates the management of dew heaters during long exposure astrophotography. By adding the ECCO module to your EAGLE, it will automatically and continuously monitor the temperature, humidity of the air around your telescope and the temperature of your lenses by calculating the dew point (the temperature below which dew condenses). This way it will vary the heating of dew heaters connected to the appropriate ports avoiding dew to condensate on your optics. This is automatic with an easy to use device. Just connect it to the EAGLE's USB port.
The EAGLE has 3 0-12V, adjustable voltage power supply ports where you can connect your dew heaters without the need of an external controller. Using the EAGLE Manager software you can activate these ports and manually adjust the voltage to activate the relative dew heater. ECCO instead, thanks to the integration of appropriate temperature and humidity sensors, adds to the EAGLE, dew heater power automatic control: by monitoring in real time the temperature of the optics of your instruments (through the appropriate probes, a maximum of 3 probes are supported), air temperature and humidity (via the sensors included in ECCO body). ECCO calculates the dew point and then automatically adjusts the power of your dew heaters to prevent any dewing!
As with all PrimaLuceLab products, the ECCO offers you innovative features in a product characterized by refined design and high quality construction. Made entirely of 6061 T6 aluminum and produced using CNC machines, ECCO is completely red anodized to increase the strength and durability of the materials. It can also be used as a finder support by adding the optional "Finder support for ECCO". You can install your finder or guide scope above ECCO instead of using guide rings (this is a perfect solution, for example, for small apochromatic refractors and very portable setups).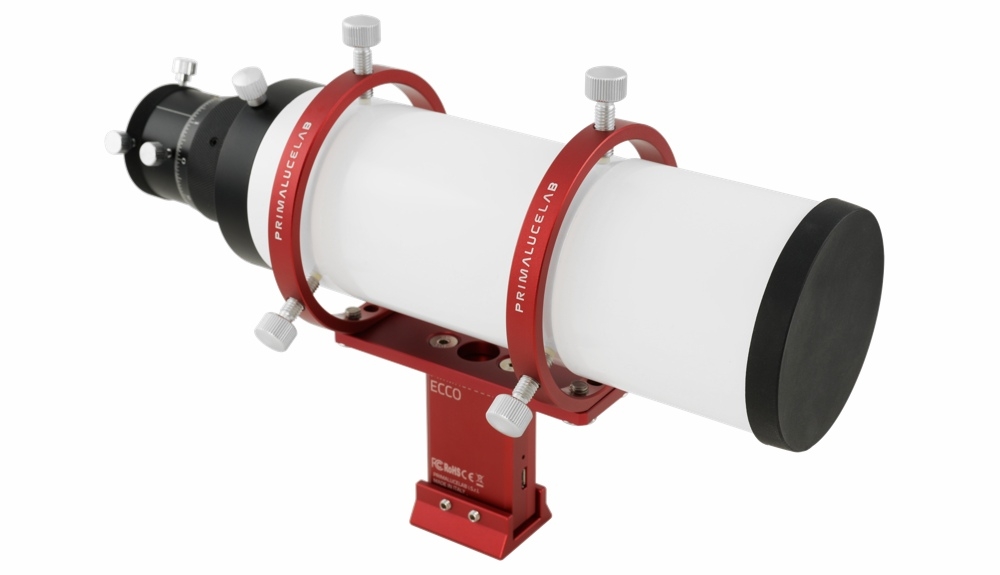 ECCO used together with the "Guide scope support for ECCO" in order to use a guide scope or a finder.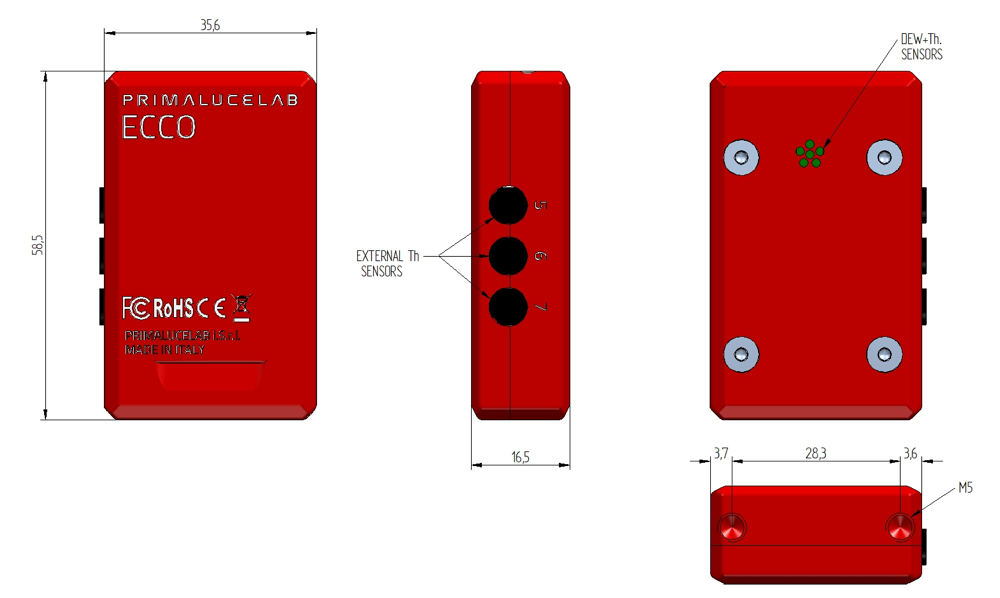 SPECIFICATIONS