Product Reviews
Customer Reviews
Write a Review
Ask a Question
Filter Reviews:
amp glow
camera
experience
ASI1600MMPCool
Star71
color CCD
ASI Filter Drawer
MaximDL Suite
gain
sensitivity results
12/03/2020
Pierre-René B.
Switzerland
Purchase at Opt
It is my first time I order a product at Opt. Everything was running smoothly and I receive my product in perfect stand one week later in Switzerland. Only delivery service of UPS in Switzerland was a bit messy.
11/23/2020
Joe S.
United States
Great Camera
I've had the pleasure of using this camera for a few sessions. Combined with a short refractor, this is a great camera. Super easy to use and reliable. I run it at -10c and get virtually no noise from the camera itself. Certainly no amp glow. The square sensor takes a bit to get used to. However, I've found it makes framing a snap. The camera was in stock at OPT and came in a week.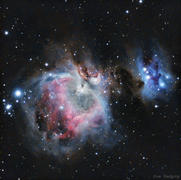 11/18/2020
Christoph K.
United States
Interesting Color Camera
Well, I have quite a bit experiences, but I dtruggel with the sensitivity results I get from the 533, maybe I have to play more with gain and Offset, but out of the box the Camera works easily with no amp glow with my MaximDL Suite. I guess, just more experience would help, but the results from my ASI1600MMPCool are much more detail containing than this color CCD. Time will tell :) Works great with the ASI Filter Drawer as a grab and go setup on a WO Star71 widefield setup.
08/19/2020
Dr. Schulte
United States
Best choice if...
I love this camera, it performs excellent. ZWO is defiantly the leader in DSO cameras. If you only have room or budget for one dedicated camera in your bag this is a really great choice... if you have room for two I'd get a 294 & 183.
08/18/2020
GREG H.
United States
Fantastic camera!
I use this for EAA and the images are very smooth, clean, and beautiful. With cooling and no amp glow, darks are optional though I often use them. GRAB ONE!
08/08/2020
Nicholas B.
United States
First deep space camera, no regrets getting this
I've used this camera for a total of 30 ish hours under the stars since my purchase in June. Has immensely upped the quality of my astrophotography. Works great with dual narrowband filters such as the Optolong L-eXtreme and my Ed80/600 refractor.