Product Reviews
Customer Reviews
Write a Review
Ask a Question
Filter Reviews:
camera
amp glow
results
gain
sensor
noise
setup
best
DSLR
stars
Great imager
This is a fantastic little camera. I can do much longer color exposures then I have in the past. With very low amp glow, I think this sensor will work!
08/24/2021
Tjay H.

United States
Learning Curve Check
It's definitely everything that it's said to be. Using an unmodified T3i DSLR prior to the 533MC there was a significant learning curve that took me 4 failed nights of shooting to get dialed in. First up, and already knowing photography I should have caught this one right off... but 2 nights later the lightbulb came on and I remember that with the smaller sensor I wasn't just getting more reach... I was losing a ton of light... my scope is a f/5.9... then times the crop factor of the 533MC that put it around f/16.... explained why I could see stars... but no nebulosity. Being new to gain... and this new strange shaped camera I upped the gain to 220, and left the subs at 300 secs... about the best I can do with my star adventurer.... this did brighten things... but it also blew out the stars really bad... and I torched another night. Then it dawned on me that I have noticed a lot of folks use a reducer... another light bulb... I only have a flattener... so I purchased the orion .8 reducer... working on a budget here folks... lol so with that now I'm at around f/12... still not spectacular... but better than f/16. Now that I have the light sorted... a gain of 105, and subs of 280 (just couldn't get in the sweet spot for anything more) I finally got a shot of the inchworm cluster which has some nice red nebula something prior to the 533MC I wouldn't have even tried to shoot. There were some other learnings that had to be had with working with fits files, and how DSS works with those... but I'll not bore with all those details... so to sum up great camera, with the power cord it cools, but will work without it. The aspect ratio is a little strange, but probably just me since I've worked with DSLR's, and skipped the whole square instagram image phase. Very low noise, and yep no amp glow as advertised. Nice bag to keep it safe is a nice touch, and all the adapters/spacers were a must so nice they were included. 2 thumbs up, and if you don't have a reducer... or a super fast scope then order a reducer with the camera. Clear Sky's to all!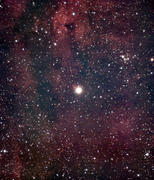 07/19/2021
Nick

United States
Easy and sensitive
For cable management, the USB ports on the back are clutch. I usually have no problem getting the sensor down to -10 except when it is 70 to 80 degrees F throughout the night. The fan is real quiet too. The square sensor takes some time to get used to, but I haven't yet had to worry about how I am going to orientate the camera. I image at zero gain and still get great results in my subs.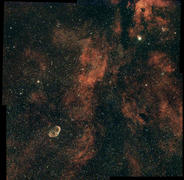 06/28/2021
Kurt W.

United States
Nice camera
This camera is very easy to use. Replacing a ZWO ASI183MC PRO, and the larger pixels are a benefit for faint targets.
06/21/2021
Ahmed A.

United Arab Emirates
very nice little camera
good camera I wish it cooled a little more than 35c below ambient and it had larger FOV. but for what i paid for, I can't complain. items were shipped and delivered on time and as expected .
04/13/2021
Nicholas B.

United States
Updated review of the Asi 533
Still using the Asi 533mc pro almost a year later and I love it! I use it with the optolong l-extreme and the optolong l-pro filters and I love the data that comes from this camera all the time. Noise is very easy to deal with and the images are always so clean after calibration and stacking.