Product Reviews
Customer Reviews
Write a Review
Ask a Question
Filter Reviews:
camera
experience
many
pixel-size
Schmidt-Cassegrain
ASI294MC
selection
refractor
plate
exposures
06/22/2021
Andy W.

United States
04/02/2021
Joel S.

United States
ZWO ASI294
The camera is flawless and easy to setup, I need to up my skills and I believe this is the camera to help get me there. Thanks to OPT for their awesome service and quick shipping from California to North Carolina......................clear skys
03/02/2021
Andrew W.

United States
More experience
As time goes by, and I log more and more hours on my 294, I realize what a valuable tool it is. Along with my ASIAIR pro and 120MM, I've been able to take the photos I've always dreamed of. When I can afford it, I'm sure I'll upgrade to a cooled camera, but this camera will never use it's usefulness. I'll keep posting reviews as long as you let me, and I'm sure you'll see the improvements in my photos. I thank you for all of your help.
02/12/2021
Andy W.

United States
More miles
I've finally had the time to get some guided exposures under my belt now, and will upload more pictures later, but this is a stack of 12, 220 second exposures at 135 gain through my 6" f/6.9 Newtonian using PHD2 and my little ASI120MM. I added darks but no other subs and did editing in gimp and on my ipad. I have since had a breakthrough with my ASIAIR and have communication with my mount, so many more guided photos will be forthcoming from my 294 uncooled.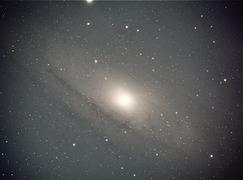 01/06/2021
Andy W.

United States
Very happy
I received my camera very promptly, and now that I've had a little time to get used to it, I can say that I am very happy with it. I have had limited success using my ASIAIR with the camera, having so far controlled the camera, polar alignment, and plate solving. Attached are a couple of unguided pictures, one is a stack of 22, 45 second exposures, and the other is a stack of 20, 3 minute exposures.
10/16/2020
Don S.

United States
Excellent camera
I have been getting pretty good results with the ASI294MC; but its 4.63ųm pixel-size is a bit small for my Schmidt-Cassegrain 8-inch telescope. I would need more like a 6ųm pixel-size and a 9ųm would be just fine. Unfortunately, not too many if these cameras around for under $100,000.00 I was looking at a 152mm Refractor and that seems to be a perfect focal-length selection for this camera. You live and learn, I guess.