Product Reviews
Customer Reviews
Write a Review
Ask a Question
Filter Reviews:
extension lengths
ASI178MC
goto mount
deal breaker
tube length
filter drawer
trouble
pros
cons
stock
12/16/2021
Jeramie S.

United States
So Good!
This is my first AP rig and was a little anxious about the setup and how everything would work. I've been completely amazed at how good this kit is for the price. Pros: Easy setup. Polar alignment wasn't all that hard. Everything seems to be of good quality. The 2i tracks really well. Cons: I'd have paid a bit more for a goto mount, but it's not a deal breaker. I also had a bit of trouble getting the focus right with my camera (ASI178MC). Had to play quite a bit with different combinations of extension lengths to get it right. With this in mind, if you're using a dedicated AP camera you'll need to figure out your correct tube length and make sure you have the right size inline filter drawer for LiPo or other filters. I'm currently having to just let a 1.25 filter rest on the sensor window until the correct inline filters are back in stock.
12/13/2021
Leonardo R.

Mexico
A great little mount
It is an excellent mount. I use it with the Radian 61 and Asi 2600 MC, total 3.5 kg with accessories. The key to success with this mount is the tripod. With a carbon fiber tripod it is very unstable, with the tripod of my old EQ6 pro goto (8 kG) it is totally stable, getting great results. You should sell some 4 kg tripod. This mount is perfect for small focal lengths, respecting the weight, which does not exceed 4kg and t the equipment to be placed on the mount must be perfectly balanced. I had to improve it with some accessories to gain stability and reduce weight and now it is perfect for me. An excellent purchase that allows me to travel to the skies without contamination (bortle 2-3). With my old EQ6, with 20 kg +8 of the tripod plus the rest of the equipment, it is very heavy to make long trips, with the star adventurer, I lose focal but I gain portability.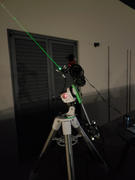 12/06/2021
Anonymous

United States
10/13/2021
Chase N.

United States
This is a great little scope
While still new to the hobby of Astrophotography, I was looking for a lower focal length lens to use, while I traveled up to the Boundary Waters Canoe Area MN, a bortle 1 area. Due to size needed for the trip, I was looking at maybe getting a 135mm lens, but then this little guy came back in stock, so I decided to go for this instead. I am glad I did! This scope is small, fits perfectly in my little Pelican Case used to transport my camera and Skyguider. The scope is very well made, feels extremely sturdy and the focuser is solid, maybe a tad tough to move, but nothing to write off about. Along with the scope came some extension tubes and nice blue mounting rings that mount nicely to the arca-swiss dovetail. If you are in need of an ultrawide, I highly recommend this scope. The attached image is only 37.5 minutes at ISO 3200 of the Pleiades.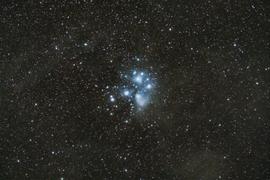 10/08/2021
Allen G.

United States
TPO 180 Lens
Its fantastic! I mounted it on top of my Explore Scientific Ed102 because the dovetail supplied is marginal at best. not wide enough to fit the plate on my mount. , but the optics are sharp and the field of view is breath taking! A very good purchase, especially when combined with my Asi 294 mc pro.
10/08/2021
Francis K.

United States
Thoughts on Sky Watcher Star Adventurer 2i Pro
Due to poor weather and smoky skies opportunities for sky watching have not existed since I purchased the tracker. However, I did assemble it to familiarize myself. I remember Trevor Jones of Astrobackyard saying that the battery cover was weak on the prior model. On my 2I Pro it is the same, almost useless, prone to falling off where it can easily get stepped on.