Product Reviews
Customer Reviews
Write a Review
Ask a Question
Filter Reviews:
scope
DSLR
light
focus
pictures
field
color
mask
target
lens
03/02/2021
Cody W.

United States
02/22/2021
Steven

United States
Loving this Scope
Great color and resolution. Simple to setup and use. Love the easy it is to adjust and lock the focus. Came with all adapters I needed to connect and set back focus. Just had to add 2" UV/IR filter to the front of it and it was ready to use. Being extremely small and light makes for a great portable solution when pared with a small tracker.
02/20/2021
Terry D.

United States
AMAZING little scope
I was a bit skeptical at the small aperture, but this little lens is terrific. Colors are true and it has resolving power that belies its small size. In short, i am delighted with this small but powerful addition to my astro imaging arsenal.
02/13/2021
Louis .

United States
Good light weight option
Getting the cons out of the way first. Back focus was difficult to achieve and unforgiving. I ended up having to 3d print m42 spacers to get the back focus to a usable spot. Even with the back focus set correctly, getting the focus perfect is a bit of a chore as well, even with a bhatinov mask. Ultimately, I chose a target like the trapezium in Orion to fine tune my focus. There does seem to be CA around some larger stars, but I say that in the context of having struggled with the focus itself. That all being said, I really like the scope. It's a perfect light weight option for smaller mounts like star adventure. This is especially true if paired with cameras with small sensor size (think 3x-5x crop factor). This is still wide field enough to frame larger nebula such as M42. The field is flat, with no coma or vignette for these sensors. I have not tried it yet with a DSLR to test the coverage on a larger sensor. I have attached a photo of m42 taken with this scope, a ZWO asi 178 (uncooled/color), and star adventure mount (guided).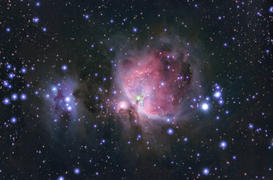 02/11/2021
marie

United States
Great little scope, needs solution for mounting finder/guidescope
This is a really well-made, beautiful little triplet. I'm excited to have a ultra-small widefield to attach to my dslr. HOWEVER the scope would be much easier to set up if manufacturers offered a stock solution for attaching a finderscope or guidescope. It could even be just offering a second set of stock rings for sale as an add-on peripheral. Great scope!
01/28/2021
Don C.

United States
Solid Performer
I purchased the TPO UltraWide 180 for wide-field CCD photometric studies. I also wanted the small aperture and wide field as a frontend for an Optec SSP-5a photoelectric photometer for bright star work. The optics are top-notch and have performed better than advertised in both instances. The only reason this rating is 4 stars and not 5 are the tube rings. It would be infinitely better if the rings had three thumbscrew adjustment points instead of just two. Two adjustment points makes it very difficult to perfectly align it with the main telescope when coupled with the SSP-5a in my case, or if using it for off-axis guiding. I'm in the process of modifying the tube rings to utilize 3 adjustment screws with Delrin tips.