Product Reviews
Customer Reviews
Write a Review
Ask a Question
Filter Reviews:
scope
reducer
none
collimation
Paramount
cost
subs
price
filter
Looks
05/28/2021
Gary B.

United States
TPO RC 8" Carbon
I'd been looking to buy an RC8 for some time. However, like most telescopes none of the dealer had them. When OPT notified me that they had received some, I jumped on it. They did raise the price 10% but it was worth the extra cost to get it sooner. I've installed my Moonlite Focuser and re-collimated. My first images look pretty good.
05/28/2021
Trace B.

United States
Very Good First Impressions
I've just started imaging with this TPO RC8 and so far I'm impressed. First published image is a nice surprise, very pleased with the results: https://astrob.in/yp942z/0/ The scope seems well built and is competing with my Paramount MYT for good looks :): https://astrob.in/5m05pm/0/ Factory collimation was not bad, but not correct. Slight primary and secondary mirror adjustments using the DSI star test method easily achieved good collimation. Looking forward to both native f8 imaging and f6 with the CCDT67 reducer.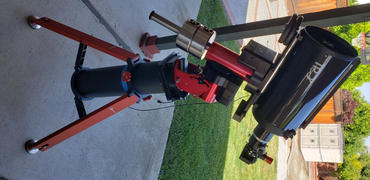 02/03/2021
Matt E.

United States
Underwhelming and underperforming
I purchased this scope about 1 year ago and I have been trying off and on the whole time to collimate it. I have the tilt ring and I replaced the stock focuser with a Baader Diamond steel track. I have got it collimate only to take it outside and have it by all out of sorts . Finally I took it apart to find that the primary retaining g ring was so loose that it was letting the mirror slip back and forth and even spin . I tightened it down but what a colossal waste of imaging time and energy. I would say let the buyer beware on these "cheap" GSO Rc scopes. I only figured this out by reading an old article in an astronomy forum. I thought it was something I was doing and now I am out of warranty and can't return it. Check the primary as soon as you get this scope of it is loose either tighten it or return it while you can and save yourself the frustration .
01/14/2021
Peter B.

United States
04/25/2020
Matt

United States
Seems ok so far
Service has been great. Opt is a great company. This scope was way out of collimating when I first took it out of the box. I have tried to collimating it and hope I am getting close. Collimating is probably the only down fall of this scope. The carbon fiber tube looks great and it seem well built for the price. He focuser isn't as bad as I thought it would be after reading about these GSO manufactured that everyone is selling under different names. I will need to image with it to give a final verdict. Good so far.
RC 8
It got here on time and in great condition