Product Reviews
Customer Reviews
Write a Review
Ask a Question
Filter Reviews:
scope
images
views
Glass
Takahashi
moisture
precision
details
resolution
focuser
06/04/2021
Miroslav

Peru
Outstanding performer
I have Takahashi EM200 Tema 2 mount so I was looking for a scope above 4" light enough to couple it with SX Trius monochrome CCD camera, FS60Q as a guiding scope, and widefield Rokinon 135/2 + ASI071MC camera and it had to be Takahashi scope. There wasn't another option left as to go for TSA120 considering my first choice weight (TOA130). I was a bit worry, TOA 130 has an incredible reputation hard to beat but once I looked through TSA120 even in a heavily light populated place like a 10M city where I'm living (Lima, Peru) views were amazing. The contrast of this glass is breathtaking, I could get dark black skies even when with the ***** eye I could almost mid-tone city lights illuminated sky. I was able to get crystal clear planetary images with excellent detail as well as solar H-alpha shots with high resolution and fine details in spicules and filaments. It is true what the previous review is stating regarding the cleaning of this glass, you have to be extremely careful of any moisture you could get at the barell-glass contact but it is manageable. The first time I was scared to death to do it but now it is a matter of few minutes using Zeiss lenses wet tissues but always pointing scope lens looking down to the ground. It is heavy on the lens barrel end? Yes and be careful when unmounting the scope from the mount, the balance point is well close to the lens barrel but if you sue to it I don't see any problem. It has to be heavy at that end, there are three massive glass lenses in the sealed compact barrel, would you expect it will be light at that end? So far I'm in love with this scope so do my EM200, I can still load on it plenty of gear and still keep it under the weight limit. I did not try this scope for deep sky imagery, just recently got a flattener for it but I would rather take it out from the city for DS imagery though. An overall appraisal is 5 stars for this scope due to its outstanding image quality, lightweight, and relatively (in Tak world) reasonable price. You can make your mind judging my images at https://www.astrobin.com/users/mirkal/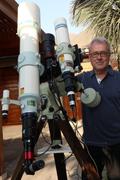 05/14/2021
Anonymous

United States
Glorious glass!... but know what you're getting into
There's nothing I can say about the views through this scope that has not already been said; the glass truly is magnificent and the images are indeed "Tak" sharp. The dew shield slides with a surgical precision. The MEF focuser is pretty good (although all the cool kids get the FeatherTouch.) That said, there are some disappointments given the price one must pay. Among them, the OTA is so front heavy that I can't leave my plates and rings on if I wish to retract the dew shield. It's so impossible to clean that the manual tells you not to. You dare not ever get moisture on it. It's also frustrating that no case, hard or soft, is offered for this scope. Takahashi accessories are extremely expensive. Overall this is a laboratory grade instrument, but it is also delicate and fiddly like one. My shopping experience with OPT was also not what I had been led to expect. Takahashi USA expects this scope to be sent second day air. Not only did it take a week before OPT even started shipping my scope, but they let this scope come to me through 6 days of UPS Ground. Good thing it's triple-boxed! It arrived with a flaw on the focuser (the finder screws were too close together) and I was unable to get through to OPT, so I worked with Takahashi USA (Land Sea & Sky) directly to get it resolved. While I do love what this scope can do optically, you should know going in that you're looking at a potential money pit with an ergonomic philosophy right out of the 1960's. Even so, it's arguably the best 12-pound 120mm APO triplet you can get.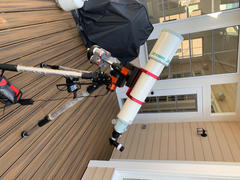 Top-notch optics, light OTA, reasonable price for premium scope
After much analysis I chose the Tak TSA 120 because it has the following attributes: 1. Premium Optics by a manufacturer with a rock solid reputation 2. Light weight (very important - many benefits here) 3. In the 120mm - 130mm aperture range 4. Reasonable price for premium scope There were other scopes that came close, but the TSA 120 seemed to be the only scope that had all these attributes, especially the light weight! I use this for visual and AP and it does not disappoint. I love the views and the photos are always beautiful, pinpoint clear, perfect color, and a flat wide field. I can use the f/5.6 reducer @ 672mm for wider field and shorter exposures or sue the native 900mm f7.7. The results are always satisfying. I was hard-pressed to find a scope with similar aperture, equivalent premium optics, and weighing only 12 lbs! For my needs, the TSA 120 is perfect, I love it, and will probably keep it for life.