Stellarvue SV80-3SV f/6 Photo-Visual Triplet Apo Telescope - Discontinued
Number of Refractor Elements: 3
Telescope Aperture: 3.14" or 80mm
Telescope Focal Ratio: f/6
Telescope Focal Length: 480mm
Includes Telescope Case: Yes
DESCRIPTION
Stellarvue SV80-3SV f/6 Photo-Visual Triplet Apo Telescope - Discontinued
The SV80ST-3SV, is the wide field imaging system to buy if you want the best performance both visually and photographically. This system comes with an extremely high Strehl (highly accurate) triplet objective for the ultimate visual experience. 
Included is:
Stellarvue SV080ST-3SV f/6 Triplet Refracting OTA Telescope 
Matched SFF3-80 field flattener
3-inch Stellarvue focuser (This over-sized 3-inch focuser eliminates the vignetting seen when using full sized CCD chips and a 2.5-inch focuser. This focuser is robust, smooth and stable.)
Stellarvue's riser blocks (

The riser block are necessary to position the telescope and camera in a balanced configuration.)

Losmandy-sized mounting rail
The visual/photographic system is specifically designed for imaging and has American made hardware with rings that bolt directly to the tube completely eliminating felt flexure. The heavy duty 3-inch focuser is also hard mounted to the tube and the rotator is positioned on the rear of the draw tube. This maintains alignment better than a rotating focuser. 
The SV80S-3SV comes in a heavy-duty hard that holds the telescope, riser blocks and rings as one unit. Merely take it from the case and slide it onto your mount. 
The Stellarvue 80 mm f/6 apochromatic triplet uses the sharpest and highest contrast 80 mm apochromatic triplet lens we have ever offered. This is not a mass produced scope using inferior glass and sloppy mechanics. This is a truly premier, hand-crafted 80 mm apo. The Stellarvue SV80ST-3SV features our 80 mm f/6 (480 mm focal length) fully multi-coated, 3 element objective lens with an Ohara FPL-53 center element. 
Fully multi-coated apo triplet objective: The high Strehl, apochromatic triplet objective is triple-tested at Stellarvue to ensure that it performs perfectly. Lenses are better than 0.95 Strehl, better than our former Russian made lenses. We are now taking the time to provide interferometric test reports with each of our triplet refractors showing how the lens in your telescope actually performs. Hitting a Strehl ratio of at least 0.95 means your telescope will perform perfectly. These lenses rate even higher. 
Each lens focuses light precisely and in addition the extreme broadband coatings on each surface enhance it even further. Using it visually, the stars appear vivid and the background, velvet black. Since these coatings transmit more than 99-percent in the visual spectrum and far above and below it, reflections seen on CCD images are eliminated. The relatively fast speed and high Strehl optics make the 80 apo an excellent wide field imaging telescope while the visual performance is simply stunning. 
Tube and dew shield: Comes with an aluminum tube and dew shield that is finished in Instrument White. Fittings are black anodized aluminum. The dew shield retracts reducing the length of the telescope when being stored. Extending the dew-shield minimizes dewing of the objective at night and serves as a glare shade during the daytime. 
Internal tube treatment:  The inside of the main tube assembly is painted "ultra flat black" and the focuser is baffled to eliminate any tube wall reflections.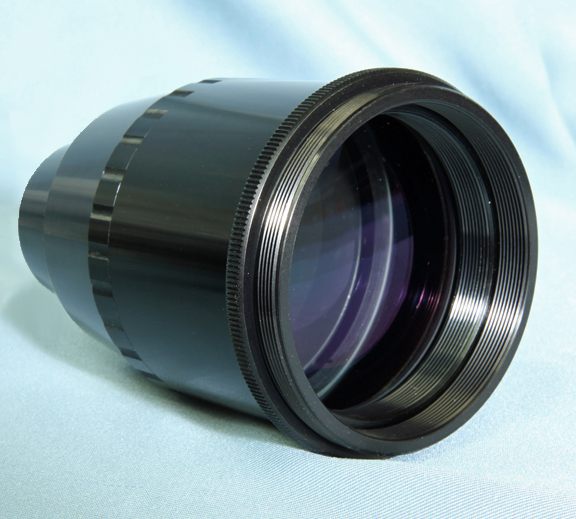 The SFF3 field flattener threads onto the draw tube. Simply un-thread the 2-inch visual back and thread the SFF3 in its place. The flattener is optimized to work with DSLR cameras and has a 55 mm back-focus. But this is a modular field flattener and the extensions behind the lens may be removed to create a much larger back-focus, over 100 mm, if needed.
If you are not sure about how to do this, give us a call. We can make modified adapters to work with your particular camera or camera, filter wheel, OAG combination. 
For visual use Stellarvue highly recommends their Optimus eyepieces and 2-inch quartz mirror star diagonal. This will provide you with the widest, sharpest field of view and maintain the extremely high contrast this apo lens delivers. 
Telescope Specs:
Number of Refractor Elements: 3
Telescope Aperture: 3.14" or 80mm
Telescope Focal Ratio: f/6
Telescope Focal Length: 480mm
Optical Coatings: Fully multi-coated with extreme broadband coatings
Includes Telescope Case: Yes
Focuser Size: 3"
Focuser Speed: Dual Speed
Telescope OTA Length – Retracted: 18in.
Telescope Dew Shield Diameter: 4 in.
Telescope OTA Weight: 7lb.
Telescope OTA Weight with Accessories: 10.4lb.
SPECIFICATIONS
Camera/Eyepiece Connection
3" nosepiece
Dawes Limit
1.45 arcseconds
Hightest Magnification
160x
Light Gathering Power
131x
INCLUDED ITEMS
Stellarvue SV80-3SV APO Triplet Refractor
3" SV dual speed heavy duty focuser with rotator and adapters
Integrated Tube Rings
Stellarvue Riser Blocks
Stellarvue Losmandy Style Dovetail Plate
Hard Carry Case
SFF3 Field Flattener
QUESTIONS & ANSWERS
Have a Question?
Be the first to ask a question about this.
Ask a Question