Product Reviews
Customer Reviews
Write a Review
Ask a Question
Filter Reviews:
Autostars
Starpatch
Meade ETX90CA
coordinates
New York
luxury
cable
firmware
users
anything
06/16/2021
Andrew B.

United States
StarGPS NX for Meade 497 Autostar and Audiostar
Delivery was very rapid. I ordered it on Friday and received it on Tuesday using standard shipping to New York. I received it two weeks ago and have used it every clear night since. The unit is well-made and easy to use. I use this with a Meade ETX90CA with an Autostar 497. Connect it according to the instructions and it starts up and communicates with the Autostar and the coordinates and time are automatically sent. The cables are also clearly labeled. I realize this is a luxury, but with heavy use it does feel nice not to have to enter anything when I power up the scope. Note to users of older Autostars: You must have up-to-date firmware on your Autostar. I have an older unit, so it had to be updated with Starpatch and that was easy to do, but I did have to purchase a serial cable to connect my PC.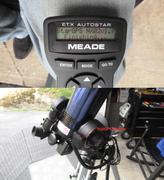 StarGPS NX does what it says
Works great with my older model Meade LX 90 telescope!
Add GPS to an LXD75
I've been using one for about 5 years - plug it in and my LXD75 now gets GPS coordinates and timing. Works transparently and really easy!