Product Reviews
Customer Reviews
Write a Review
Ask a Question
Filter Reviews:
alignment
star tracker
mount
tripod
YouTube
stars
scope
WiFi
order
manual
12/13/2021
Leonardo R.

Mexico
A great little mount
It is an excellent mount. I use it with the Radian 61 and Asi 2600 MC, total 3.5 kg with accessories. The key to success with this mount is the tripod. With a carbon fiber tripod it is very unstable, with the tripod of my old EQ6 pro goto (8 kG) it is totally stable, getting great results. You should sell some 4 kg tripod. This mount is perfect for small focal lengths, respecting the weight, which does not exceed 4kg and t the equipment to be placed on the mount must be perfectly balanced. I had to improve it with some accessories to gain stability and reduce weight and now it is perfect for me. An excellent purchase that allows me to travel to the skies without contamination (bortle 2-3). With my old EQ6, with 20 kg +8 of the tripod plus the rest of the equipment, it is very heavy to make long trips, with the star adventurer, I lose focal but I gain portability.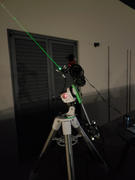 10/08/2021
Francis K.

United States
Thoughts on Sky Watcher Star Adventurer 2i Pro
Due to poor weather and smoky skies opportunities for sky watching have not existed since I purchased the tracker. However, I did assemble it to familiarize myself. I remember Trevor Jones of Astrobackyard saying that the battery cover was weak on the prior model. On my 2I Pro it is the same, almost useless, prone to falling off where it can easily get stepped on.
08/23/2021
Rodney M.

United States
Excellent service
This is great stuff!
08/11/2021
Scott D.

United States
Easier to use than I thought!
I used the Sky-Watcher Pro last week to take some pictures of the Milkyway in Rocky Mountain National Park. After reading the instructions and doing a dry run at home I thought I was prepare. I was able to do a polar alignment at dusk with NO PROBLEM. It really did only take about 5 minutes once I could see polaris. Very simple to get to the right spot on the reticle. What I wasn't prepared for was if I needed to move my tripod in the dark. I mean really dark. There were so many stars out at that stage that I honestly couldn't tell which one was polaris!! Not wanting to waste the evening, I figured, I would just point the thing north and hope for the best. I'm happy to report that for long exposures of the Milkyway, you DO NOT need perfect polar alignment. I was probably way off and I was still getting pin point stars with upt o a 120 second exposure. I'll use this again for the Milkyway for sure.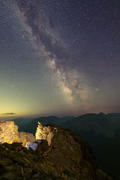 08/04/2021
Elijah M.

United States
A great time
Loving this tracker so far Been trying out 1m to 2m subs and getting great results. I tried a single 10m sub and had a little bit of trailing but the 5m subs all looked fine. Running the 1-2m is just personal preference based on my camera so you could probably push to 5m or more with no issues.
07/30/2021
Nick M.

United States
Poorly Executed Advanced Features
I am just getting started in this hobby, and I did a ton of research into the Star Adventurer before pulling the trigger on buying one. It seemed to have great reliability with some nice advanced features not typically found on a star tracker at this price. Unfortunately, those advanced features are executed through their app with is absolutely awful, with some mind boggling design choices. I have only been able to get this tracker out twice since purchase because of some exceptionally cloudy nights. The first night was imaging the North America Nebula. Which turned out about how I expected it would given it was my first astrophotography target. The tracker worked pretty great though. With a rough polar alignment, I was able to expose for 45 seconds at 150 mm with just the hint of star trails. I was quite impressed, and I greatly looked forward to my next attempt. Since we had several cloudy nights over the next few weeks, I decided to experiment with the app a bit to see what it could do. Aside from some incredibly frustrating communication errors when trying to use the built in hotspot, I was impressed by the features. I looked forward to trying out the built in intervalometer and the dithering functionality. I finally got to take it out for its second night last night on one of the most clear nights we have had in the past couple of months. Unfortunately, this night was nothing but frustration. I turned on the tracking to sidereal tracking and nailed the polar alignment as well as I ever would without an electronic scope. I framed up my target (the Lagoon and Trifid nebulae at 200 mm) using the new declination scale I attached to the declination bracket (seriously this scale should be a standard feature, and not require aftermarket mods). After achieving the perfect framing, I took my first test exposure at 30 seconds, and surprise there was a lot of star trailing. Ok, I thought, this must be because of the longer focal length. I reduced it to 15 seconds, still star trailing. Now 5 seconds, and still significant start trailing. At this point, I was basically shooting untracked exposure lengths. So I figured it must be my polar alignment. I spent the next hour making sure I had that perfected. I went to shoot again, and nope still the same star trailing. Eventually, I just exposed for 5 second exposures. Over 25 exposures, the nebula drifted out of frame. I did some calculations, and determined that the nebula was moving at the sidereal rate across my field of view, so the Star Adventurer was definitely not tracking. I spent hours in the field trying to figure out what was going on, but I had no luck. After a wasted night I came home feeling defeated, and questioning my enjoyment of this hobby. In the morning, I found this thread on cloudynights which describes my situation exactly https://www.cloudynights.com/topic/737623-sky-adventurer-pro-doesnt-seem-to-be-tracking/. Turns out, the tracker was functioning as intended by Sky Watcher (the first mind boggling design choice). It seems that as I was playing with the app at home, I saved a program that then overrode the base sidereal tracking, even though I wasn't using the app in the field (after 30 minutes of trying, I could not connect to the tracker). It seems this is what they intend to happen. This wouldn't necessarily be a problem; however, when this program is loaded, the tracker DOES NOT TRACK outside of that program. So for example, if I loaded seven 5-second exposures with an interval of 5 seconds, the tracker only tracks for 70 seconds. Once that is complete, the MOTOR TURNS OFF. Who would ever want the tracker to work that way? The whole idea of the tracker is to keep the target in frame. It shouldn't matter if I'm asking the camera to actively take pictures. Maybe I need to stop for a moment and refocus, or grab a drink, or let some wind pass, or any number of reasons to not be actively shooting. Well you have to reframe your target now because the tracker isn't tracking while doing those things. This decision to have the tracker perform this way is incredibly irritating which is further complicated by the fact that the settings override the default settings EVEN WHEN NOT USING THE APP. Those settings should only be used if the switch is set to APP. The other switches should provide default settings in the event that you CANNOT CONNECT TO THE APP in the field. Which is going to happen a lot. The best way to avoid these problems, is to reset the app to default settings, and never touch it. This does mean you won't have the built in intervalometer and you won't be able to use dithering, but you will at least be able to get reliable tracking. I hope this review is helpful for some in avoiding the frustration I experienced last night.