Product Reviews
Customer Reviews
Write a Review
Ask a Question
Filter Reviews:
mount
nights
Delivery
objects
exposures
astrophotography
instructions
weather
computer
quality
01/01/2021
Darryl P.
United States
Solid Mount
Very sturdy providing excellent guiding.
01/01/2021
Anonymous
United States
Eq6-r
Very good experience
01/01/2021
Anonymous
United States
EQ6-R Pro solid mount
It's a really excellent mount. Very solid and high quality. Everything seems to work really well and tracks well, locating objects accurately. Quite heavy but that's the price to pay for having an extremely stable and accurate mount. Used it with 8" SCT with camera mounted piggyback. Only wish the instructions were a bit clearer and complete.
12/18/2020
Thomas F.
Ireland
Top performer , satisfies 95% of what Amateurs need
What an absolute gem of a mount. They are like hens teeth at the moment so if you manage to grab one , keep a tight hold of it. These mounts continue to be the top performer in their price range. They are so scarce in Europe I had to import mine from OPT in the US ! but well worth the wait. OPT were outstanding to deal with and shipped within 24 hours and came setup ready to go out of the box.
12/02/2020
avedis m.
United States
Amazing mount! Best in its price and class!
Package came in perfect shape. I had a Meade LX85 which was a headache with customer service from Meade. And after owning this mount. Right out of the box there was no headaches. Worked perfect with my raspberry pi and has insane tracking and guiding capabilities. Very solid mount. With a 72ED scope I didn't even need to guide when doing 5 minutes exposures. Highly recommend this mount. Opt was amazing at helping me with this purchase and has by far the best customer service out there!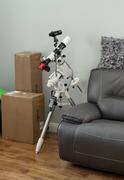 GB
10/19/2020
Gary B.
United States
EQ6-R Pro
Great mount that will not let you down.