Product Reviews
Customer Reviews
Write a Review
Ask a Question
Filter Reviews:
dovetail
scope
mount
image
accessories
camera
focus
screws
items
Radian
11/22/2020
Mike B.
United States
Radian Raptor 61 f/4.5 Imaging APO
I wanted to add a couple more comments to my first review. I used the Radian D plate on the bottom of the Raptor in order to attach it to the Paramount MyT mount. I then used the ***** dovetail on the top of the Raptor to attach the Software Bisque Sky Fusion control box. I did have one issue with the bolts that were provided for attaching the ***** dovetail. They were too long and I had to put a washer on each bolt to get a solid attachment.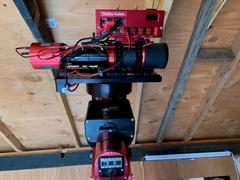 11/22/2020
Mike B.
United States
Radian Raptor 61 f/4.5 Imaging APO
I just received the new Raptor 61mm refractor about two weeks ago. Of course as usual I had to wait for clear skies in order to try it out. I finally was able to image with the Raptor over the last couple of nights. I thought it was only appropriate to image the California Nebula since this was one of the first objects imaged by Trevor Jones. I used a ZWO ASI2600 color pro camera with the OPT Ultra Quad filter attached to the Raptor. I took 115 - three minute subimages and used DSS to stack them and Pixinsight to process the stacked image. I am very pleased with the results and would highly recommend this wide field, fast refractor.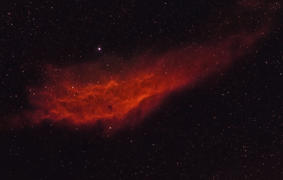 11/21/2020
Kyle M.
United States
Not a turnkey solution
I can't comment on the image quality of the scope as I've not been able to mount a guide scope to it so I can use it for imaging. I purchased the scope based on the description of it being a "turnkey package." It seemed to be a great solution for a scope that I could travel with and use with my iOptron Skyguider Pro. One issue is that I'm not able to mount the 4 in. dovetail to the Hex Rings. When attempting to, the dovetail plate remains loose. Even if I could mount it I don't think it would be possible to balance the scope/imaging train with the short mounting bar. The included 6.5" D-style plate is nice, but I can't imagine using it and adding the extra weight on such a small scope. A v-type saddle is not included for attaching a guide scope. I understand that there are many different types of scopes out there, but it seems to me that most of the guide scopes you would used on the Raptor are fairly small and seem to all come with the same ***** type sliding base. Being relatively new to the hobby of astrophotography, it may just be my naivete speaking here. But having purchased 2 scopes from another manufacturer and having them be true turnkey solutions influenced my expectation for the Raptor. While the filter vault sounds like a nice feature, in practice, it's infuriating! It's impossible to get a 2" filter into the vault and thread it in. Again, maybe my inexperience is fighting me here... but without a proper instruction manual (also not included with the scope) I could only try and figure it out on my own. Maybe a video of someone demonstrating how to place the filter would be helpful. The packaging, presentation, and visual appeal of the scope is very nice. Much "sexier" than other scopes that are pretty much designed as "scientific instruments" first, with visual appeal as a lesser priority. After receiving the Raptor, I decided to purchase the SharpStar 61 EDPHII to compare. The SharpStar came as a true turnkey option with a mounting saddle for my guidescope. After comparing the scopes side by side, the only difference that could possibly exist (aside from the cosmetic treatment on the Raptor) is the type of glass used (which is not readily discernable just by looking at the glass side by side.) They are virtually identical in every other aspect, including the black electrical tape used to seal the top element under the dew shield. All in all, this does not feel like a $999 scope.
11/21/2020
NoDarkSkies
United States
Easy Focus, Now I only need to wait and wait for the Radian Electronic Focuser Upgrade to ship
Items I do not care for are the Clamps in White Mark and Scratch the Items in Yellow so be careful. See Image Another item is that the Rings use 2 different sizes of screws and you only get 4 of each and they are to long for most items to use so I take it that they are only for the use with their 4" V-style dovetail and 6.5" universal D-style plate that I find is was waste and should be removed and added as an Accessory. The 4" V-style dovetail is also to small IMO but I did find a use for it. I watched the New Video "Radian Raptor 61 Rundown to learn more!" and was trying to find the correct Visual Back (and How To) to buy but there was no info on the page on YouTube. It would be great if the website for this product had Real "Recommended Accessories" for use with this Nice Looking Telescope as well as the rest of the Products listed. I wonder if this would work but not enough information to be sure.
11/21/2020
William C.
United States
Hardware Replacement
I agree with Ashton the baseplates they send with the Raptor are WRONG! Yet there is a solution! Here it is, go to your nearby hardware store and get six items, two 3/4' hex bolts, two nylon washers of 1/8" thickness, and two nylon washers of 1/16" thickness, then order the Williams Optics 210mm dovetail. Now you can mount the dovetail that works, allowing you to balance the scope over the balance point which is about the focusing mechanism. The washers will give the dovetail clearance needed. As Cedar City was clouded over last night I could not do astro pics, yet the city lights illuminated the upper area of the Hurricane Cliffs about 1 and 1/4 miles away and I took a test shot of the Junipers with my modified RP. I like it. will try again tonight.
11/20/2020
Ashton R.
United States
Wrong hardware
Every video i have seen the Radian on, it was mounted on a skyguider pro or a sky watcher pro, but it would have been nice if it came baseplate that was compatible with mounting it but instead im ordering $300 for the mount and the right dovetail that SHOULD have came with the telescope instead of all the incompatible parts thats un-needed. because we all know 9 out of 10 times you see this telescope it will most definitely be mounted to either of those 2 mounts.