Product Reviews
Customer Reviews
Write a Review
Ask a Question
Filter Reviews:
alignment
piece
equipment
scope
hints
tool
setup video
eyes
addition
dovetail
04/12/2021
david m.

United States
Polemaster
very useful piece of equipment, a noticeable improvement in image detail
04/03/2021
Donald M.

United States
Great
Excellent piece of equipment.
04/01/2021
Paul S.

United States
Beware Windows 10 Users
The first night it worked fine plugged into a 2020 Dell XPS 17. The next night I got to experience the lag nightmare that is all over the internet and noted in other reviews here. The thing freezes up for sometimes a few seconds and sometimes 30 seconds. This makes it totally unusable. What is worse it that this appears to have been an issue for years and QHY does nothing about it. Their response, as parroted on many websites, is to play a video in the background. This appears to help sometimes but is a bizarre and completely unacceptable workaround even if it worked 100% of the time. Some people blame power management of the USB ports. While it appears that Win10 by default gives itself the tyrannical power to turn off power to the ports, even after I disable that option in Device Manager the problem persists. QHY needs to fix this problem and OPT/others should push them to do do or at least warn Win 10 folks that this is a potential deal killer. To almost make it worse, this morning the camera/software works fine in my living room. So, is this how it will be, it works fine when not needed and craps out when there are clear skies?
03/10/2021
Ryan S.

United States
Eye Saver
I'm in a rural area, but the neighbors love their bright lights. This makes it difficult to spot Polaris in the scope of my Skyguider Pro. Along with the Pole master universal adapter and a Manfrotto tripod adapter I'm able to get a spot on polar alignment without the acrobatics and eyestrain. I like that it works with my phone, so no need for a laptop.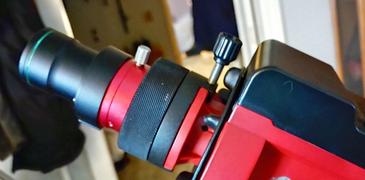 03/04/2021
Anonymous

United States
QHY PoleMaster EQ Mount Polar Alignment Camera
In my opinion it is an essential product for those of us in the southern hemisphere with medium light pollution; since the alignment by Octans is almost impossible due to its low magnitude of light.
03/02/2021
Theron E.

United States
Great product
The Polemaster is great but when I bought it I asked which adapter for my mount. I'm using the lx85 and was told to get the universal adapter. It doesn't work for the lx85. Good thing I'm a machinist and made one that works.