Product Reviews
Customer Reviews
Write a Review
Ask a Question
Filter Reviews:
unit
scope
order
Delivery
ASCOM
PPBA
power
weight
weather
computer
05/24/2021
Adrian

South Africa
A great product with serious design flaws that could destroy the box
Apart from the USB 3.0 port issue mentioned by Klaus, there are serious design flaws with this product that can break the unit in a way that is not covered by the warrantee. In the dark it is easy to mistake the adjustable output socket for the 12v power input socket. They are located on opposite sides of the box but in similar positions. Both sockets also accept the same 5.5mm plug. I would expect the adjustable output to be protected by a diode or some other mechanism that would prevent damage in the event that the power plug is inserted here while your equipment is connected to the box. This is NOT covered by the guarantee and Pegaus Astro have confirmed that this problem is relatively common Feedback from Pegasus Astro: "The customer plugged the dc input cord to the wrong socket (adjustable output) and operated the device under this configuration. This explains why the device did that. It will not harm the device if you accidentally do that but you will cause a damage if you keep this cable there and try to power all of your equipment in this configuration. As we have seen this issue a few times we are sure 100% how this happened. Unfortunately this is not covered by warranty and customer has to contact us for repair of his unit." I would expect a better design for something that costs this much.
05/14/2021
David P.

Canada
Pricey, but worth it!
Easy to use and set up. The best option to provide 12V power & USB to the scope, if you are using a mini computer or laptop to control the scope and take pictures. - ie, using ASCOM or ? - this is the way to go.
04/21/2021
Klaus

United States
A Fly In The Ointment
I bought the Pegasus Pocket Powerbox Advance for the same reason most people do, to simplify cable management and have a single hub for data and power. In principle, the PPBA does this and works well, except for one significant flaw. As stated in the Pegasus specifications, there are three USB ports that can handle both USB 2.0 and 3.0 and one USB port that is exclusively USB 3.0. What they don't say is that USB port 1 (3.0 only) is not compatible with a large number of USB 3.0 cameras. What?? This includes most ZWO and QHY cameras. I can confirm that several current USB 3.0 cameras from both manufacturers do not work with the PPBA USB 3.0 port 1. This renders the device essentially a three USB port hub. If three USB ports is enough for your setup, it won't be an issue. If, however, you need four USB ports and have a ZWO or QHY camera (don't know about other manufacturers), you're out of luck. I'm now debating whether to look for a work around, or return the device and spend less money on separate USB and power hubs. Hopefully these details will help others make an informed decision.
04/15/2021
Anonymous

Chile
PegasusAstro
Delivery was fast and secure.
04/10/2021
Eric

New Zealand
Awesome bit of kit
Had this arrive the other day and it is just awesome Compact form factor and managed to get everything to plug in easily enough Has made the cable management on the mount so clean and tidy and the setup was a breeze Have got it controlling/powering the mount, DSLR, guide scope and dew heaters Had a few questions about this and OPT was more than happy to help sort things out and delivery was super quick and well packaged up ... couldn't have asked for more help Would well recommend both OPT and the hardware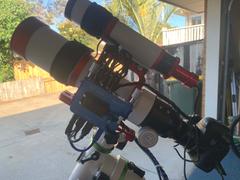 02/22/2021
Jonny

United States
Phenomenal Cosmic Power... Itty Bitty Living Space
What an outstanding little device. It is considerably smaller than I thought it would be - even after reading the dimensions and seeing photos of it. The unit itself is well constructed of blue anodized aluminum. I especially like that Pegasus includes a number of accessories/cables with the unit. Installation is an absolute breeze as well. Wait, installation? This isn't something you NEED to do. By default, the PPBA has the 4 12V DC outs on, the 2 dew heater RCA outs are on "auto dew" and the adjustable output is set to 3V. You can just use it as is without ever installing any software. However, if you want to actually control different aspects like adjusting that DC out to 8V instead of 3, or taking manual control of the dew heater, then you need to install the Pegasus software. If, like me, you also want to control and manage it through other applications, you install the ASCOM drivers. All of this worked flawlessly. Now I've got the switch and weather available in NINA. I also want to comment on OPT and the outstanding service I received. I had a question and typed it into the live chat. Angel responded to me almost immediately and was extremely helpful. When I placed my order, the item was shipped the same day. It was packaged extremely well in an appropriately sized box with plenty of packing peanuts for protection.