Product Reviews
Customer Reviews
Write a Review
Ask a Question
Filter Reviews:
wife
aspects
anything
rings of Saturn
attempt
red dot finder
moons
hobby
customer service
people
11/05/2020
Jeffrey E.
United States
Awesome Telescope
This is my first telescope and it is an awesome choice. The first night I took it out, I could see anything. I contacted the folks at OPT and they walked me through how to correctly focus the telescope and the Red Dot Finder. On my second attempt a couple of days later, my wife and I were really excited to see both Jupiter with 4 of its moons and the Rings of Saturn. If you are looking to start a new hobby, these are the right people to work with. Highly Satisfied with all aspects of the telescope and Customer Service!!!!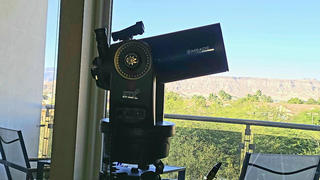 08/15/2020
Anonymous
United States
nice scope
works great. still learning to use the go to. having fun with it, thanks.
07/20/2020
MagDalene B.
United States
It works!
After studying the manual we set the Meade EXT125 Observer Telescope up in the back yard and were immediately able to observe Jupiter and it's moons, Saturn many names stars and comet Neowise. We have spend many enjoyable evenings looking toward the heavens and experiencing our universe.
06/02/2020
Dan H.
United States
All the telescope you need.
This is my second ETX 125. It is definitely better than the older model. The optics are superb. The reason it is better is the mechanics. It is quieter, more precise and great to use with one exception: The focuser is too touchy. It is a bit hard to come to focus because , at least on this one, the focuser it too easy to move. Other than that, no problems. It is true that this model is better for planets, the moon and high power use. If you want an all around go to scope,you will like the ETX 125. I give it five stars. The ETX 80 I also own gets one star because of the flimsy tripod.
05/11/2020
Scott M.
United States
Awesome buying experience!
Still learning about the telescope as I haven't yet had perfect skies to use it. Two star alignment looks like it will be easy in right night sky. Jake at OPT was very helpful and accommodating during the purchase! Thanks again!
I've only owned this 6 weeks
I gave this a 4 star but in realty I'd give it a 3 1/2 star if that was an option. I would like to start with the negatives first. I really feel if you are going to spend $700 plus for a telescope Meade should have included the power supply with it. With that said, purchasing the correct power supply is a must. Just because it fits doesn't mean it is correct and can cause damage to your telescope. I would suggest you purchase the appropriate power supply before trying to polar align the scope. I attempted to get my scope polar aligned with just a brand new pack of batteries. It never happened and it took awhile to realize it was lacking power. It needed a power supply to give it enough power to work correctly. I purchased the ETX125 in hopes to be able to take some decent images of deep space objects and so on but it has been a journey finding the right adapters and set up to accomplish my goals . I do wish Meade provided more information on this subject in the instruction manual. I also think the port for the camera option is a bad design, especially if you are wanting to photograph objects straight up in the sky. That was not thought out very well. The port for the eye piece seems to be a better solution as far as weight and angles but then you run into other issues. The issues can be overcome but only with many hours spent researching. It would be nice if Meade provided more detailed video's in the use of their product. My final negative for now is that I wish Meade created a carrying case for this scope. I do understand that some may not want to spend more on the price if the case was included but having an option to buy a case separately, would be a huge bonus for those who travel with it. The pluses.... It is easy enough to move yet built solid. The aesthetics are pleasing; that helps since it is in my living room for all to see. For its size you can certainly see some really nice clear objects through it. I didn't really know if I would like the 'go to' capabilities because the hunt is half the fun for me but I have found that it doesn't completely take that away. I can still hunt if I so desire but its there if I need it. Overall I am having fun and enjoying the night sky. Once I get all the other stuff worked out I'll like it even more. For the price, its a good scope.