Product Reviews
Customer Reviews
Write a Review
Ask a Question
Filter Reviews:
Result
exposure
area
Dummy
degree angle viewer
timesI
back surgury
polar line
website
pandemic
04/15/2021
Rick V.

United States
Great tool for the price
Purchased the iOptron Sky Guider Pro during the Summer of 2020. I've enjoyed the fun. Just wish we had more clear nights in S.W. Michigan. I purchased the unit with the iPolar installed which really helps me with an older body and eyes. I use it with my Canon 5DM4 and a William Optics Z61 II. I took the attached photo of NGC 7000 this past Tues early AM. There were 45 frames at 120 sec each (plus darks, bias & flat frames)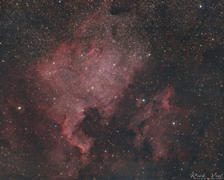 01/17/2021
Anonymous

United States
So far so good! Great build quality and easy to use.
The build quality seems excellent so far. I've only had one clear night since I got it. I was able to polar align and get 1 minute exposures no problem. The resulting image was fantastic! I'm going to try for 2 and then 3 minute exposures next time I get a clear night.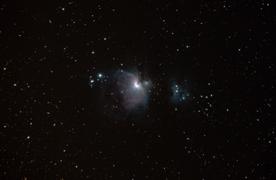 01/01/2021
Anonymous

United States
01/01/2021
Anonymous

United States
6 week delay
The pandemic has messed up supply chains and the website says more than 4 weeks. For christmas time, that was a 6 week wait, but well worth it.
12/03/2020
Michael C.

United States
Grab and go setup using iOptron Sky Guider
Purchased the iOptron Sky Guider to become part of my "grab and go" observing and astrophotography setup. Have integrated the iOptron into this solution, along with Williams Optical RedCat 51, ASI294MC Pro, ASIair Pro, and ASI225MC guide camera. Also upgrade DEC mount to William Optics Pro Base Mount and Extension Bar which would highly recommend. So far, this solution seems to be working very well. Setup and operation of the iOptron Sky Guider very easy. Illuminated polar scope is very easy to use, and get to very close polar alignment, which can quickly get very accurate using PA feature in ASIair Pro. iOptron tracking and guiding is excellent using ST4 port on camera, connected to the Sky Guider. Thus far have used few targets due to sky conditions, but have taking of 180 second test exposures, with excellent results. Would recommend the iOptron Sky Guider, but would recommend upgrading to the Williams Optics Pro Base Mount and Extension Bar.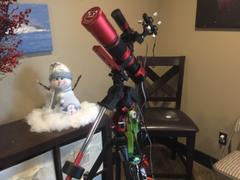 10/14/2020
William C.

United States
Gosh Dang
Having lower back surgury two timesI find it difficult to do the polar line up, a 90 degree angle viewer would be nice or learn how to not be a Digital ***** and get that other device. yet last night I staid up late and photod Orions Neb. creeping over the Hurricaine Cliffs with a 20 second exposure and low ISO. Result? Pretty good for first use, need to improve the polar alignment. All in all I like, it and leveled an area of my back yard to set up my tripod as an "outdoor observatory!