Product Reviews
Customer Reviews
Write a Review
Ask a Question
06/21/2021
Sean O.

United States
Impressive Filter for Bortle 7 zone
I was hesitant to get another IDAS filter due to some star halos I was experiencing using a D2, but so far this NB1 has been amazing and no extra star bloat or halos seen. Only using on emission nebula right now, and star color is better than expected too. Color balance is pretty darn easy to achieve, being a novice user of PixInsight for processing.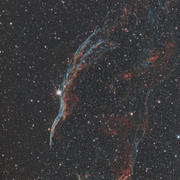 Must Have for Suburban to Urban imaging with an OSC
I've been using this filter through the Summer and I'm very impressed. The filter itself is very well made and solid. I received it quickly and packaged well. I image in Bortle 8/9 skies just outside Chicago, and had been using a CLS filter. The entire background would blow out with any exposures over 3 minutes. With this filter, I've done up to 7 minute exposures and I'm not even close to half way on the histogram (using ZWO ASI071MC Pro at unity gain). I don't think I've really even hit the sweet spot yet. Straight narrowband imaging isn't an option for me, and the high-end quad band filters are out of my price-range right now, so this was a great option for me. I also had an opportunity to briefly use this filter in Bortle 3 skies on the East Veil and the vividness of the blues on a single 4 minute exposure was unlike anything I'd been able to achieve before. I'm anxiously awaiting all the red fuzzies in and around Orion, where this filter should really shine. Image examples @katorellaastro on Instagram.