Product Reviews
Customer Reviews
Write a Review
Ask a Question
08/12/2021
Joe F.

United States
Polar Alignment is Critical
Great, but it took a while for me to get it going for Astrophotography. I did only visual for about a year using the 14 edge hd and was satisfied with the tracking but I did not have much success getting more than 4 second exposures, as the stars became elongated and the DSO's were blurry. I even ordered another GEM because I thought that I had a lemon mount for astrophotography. Thank goodness the mount I ordered was on back order, so while I was waiting for my new mount to replace the CGX-L, I ordered the Celestron polar alignment scope. WOW!!!!, once I polar aligned my scope I was getting 2 minute exposures and every aspect of the mount improved over 100%!!! I use a live video stacking Mallincam camera and use my system as a travel scope so I was not interested in doing long exposures and the 2 minute exposure is plenty of time to get fantastic videos and live stack images. The bottom line is be SURE to POLAR ALIGN before each imaging session and you will have a mount that WILL meet your needs at the best price available. So I cancelled my order for the new GEM that I do not need and saved $5000, in the process. So the malfunction was not the CGX-L, it was my fault for not following recommendations to Polar Align!!! OPT did refund my order on the GEM I did not need. I can say with joy, that OPT and Celestron are a Great Bunch to purchase from, obtain information from, and maintain a customer/vendor friendship with. Thanks Again OPT and Celestron!!!!!!!!
07/22/2021
Curt

United States
CGXL the ultimate mount?
I've run a CGE mount for 15 years pushing the load limits, held out as mounts come and go, and then the CGXL came out, heard a lot of good things about it, time to step it up. WOW! Last night I rough aligned towards North and set altitude using the gauge on the mount nothing fancy, performed a two-star alignment, the moon was super bright it was late done for the night. Today I used 'last alignment' to see if I could find any planets during the day. I was stunned to see Mercury, Venus, and Sirius slewed almost directly centered in the eyepiece first time! Amazing! This mount far exceeds expectations ! The feel, the sound, 'Go to' accurate tracking everything about this mount is all business, looking forward to imaging stay tuned for an update. Note: If you have an observatory you will need an adapter plate to attach the mount to the pier, should be mentioned if purchasing w/out the tripod? The 110-volt power supply does not come with it. The manual is a PDF file, would prefer a hard copy. Cheers!
06/26/2021
JohnRooney

Ireland
14" EdgeHD
This is a magnificent telescope. I added a hyperstar to it on a CEM70 and it has been pure enjoyment. It delivers every time. I live inIreland so weather is wet and cloudy. So the fast F2 focal ratio along with the 14" aperture delivers results brilliantly. It's a Beast of a scope! This is a photo of the Eastern Veil. Idas NBZ filter, 14" hyperstar, asi2600 Mc pro.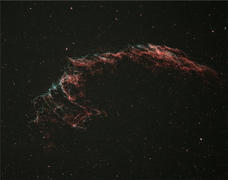 05/11/2021
Gordon R.

United States
Dead on tracking and pointing.
Easy to use and VERY accurate. Manual, precise polar alignment doesn't really take that long and with a high power reticle eyepiece very accurate. Doing high power solar and lunar I can walk away for half an hour and its still right on feature I was observing. I'm sure it would require little or no adjustment after an hour. Every thing high quality. Well worth the wait the recent wait.. I have two. One for 6" refractor and one for 14" SCT. Strongly recommend GPS unit. Adds significantly to accuracy and makes startup fast. Also dead centers Mercury, Jupiter and Saturn after sunrise and midday.
01/24/2021
frid

United States
Great Product.
Very tough and well-built telescope. Really a great product all around.
01/24/2021
Demetri

United States
Great Product.
Great overall product for the price range. it really performs well.