Product Reviews
Customer Reviews
Write a Review
Ask a Question
Filter Reviews:
Breaks
dimensions
CGX-L
collimation
look
pieces
Delivery
learning curve
bundle
weight
05/11/2021
Gordon R.

United States
Dead on tracking and pointing.
Easy to use and VERY accurate. Manual, precise polar alignment doesn't really take that long and with a high power reticle eyepiece very accurate. Doing high power solar and lunar I can walk away for half an hour and its still right on feature I was observing. I'm sure it would require little or no adjustment after an hour. Every thing high quality. Well worth the wait the recent wait.. I have two. One for 6" refractor and one for 14" SCT. Strongly recommend GPS unit. Adds significantly to accuracy and makes startup fast. Also dead centers Mercury, Jupiter and Saturn after sunrise and midday.
04/09/2021
Anonymous

United States
Good Combination of EQuipment
Delivery was as expected as to length, arrived undamaged and still in collimation. Mount is larger than expected, if you haven't seen the CGX-L in the field take a close look at the dimensions and weight. Breaks down into heavy, but manageable pieces. After a learning curve, the bundle works better than I expected.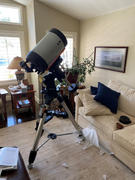 01/04/2021
JEFFREY H.

United States
Very Surprised
I was not expecting it until the end of January due to COVID slowing down or outright stopping supply chain activity. Actually received it before xmas! Also received the equatorial mount early, also slumbering in its shipping crate. I have not opened either box yet, as they are most safe where they are. Should probably open, inspect and re-seal both. Will be happy to review both when my concrete slab is poured, observatory (SKYSHED) is assembled, and we get to polar alignment, First Light, etc.
12/31/2020
Ray

United States
The price has gone thru the roof
What is being bought as an ota today, I received a cgem mount and ota for the same price in 2016
09/07/2020
Gregory S.

United States
Better Than Expected
These counterweights are quite a bargain, concentrating a log of weight (10kg) into a single spot on the counterweight shaft. Excellent for 1.25" or 32mm applications. I used them on a 30mm counterweight shaft, by putting in a thin teflon sleeve made of adhesive teflon material. The finish is not "perfect", but is surprisingly good for counterweights from this source, and the knobs are easy to use and effective. There is a non-marring plastic tip on the securing bolt end.
08/22/2020
Randy R.

United States
Celestron 11" Edge HD OTA
Received this item in less than a week. It was double boxed and packaged extremely well. Once set up and aligned, this OTA is a quality upgrade from my 9.25" SCT. Planetary and nebula viewing is crash and clear. I can't wait to start taking pics!