Product Reviews
Customer Reviews
Write a Review
Ask a Question
Filter Reviews:
scope
results
contrast
binoviewer
photo
length
reducer
optics
astronomy
effort
06/26/2021
JohnRooney

Ireland
14" EdgeHD
This is a magnificent telescope. I added a hyperstar to it on a CEM70 and it has been pure enjoyment. It delivers every time. I live inIreland so weather is wet and cloudy. So the fast F2 focal ratio along with the 14" aperture delivers results brilliantly. It's a Beast of a scope! This is a photo of the Eastern Veil. Idas NBZ filter, 14" hyperstar, asi2600 Mc pro.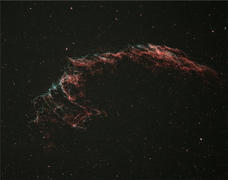 12/22/2020
Jeff M.

United States
A very large, very impressive telescope, with great optics.
The C14 has been my dream scope for decades. I finally got a C14 edgeHD model last summer. When It arrived I was amazed how large it really is. It made my C11 look small. The good: The views of Jupiter, Saturn, the moon and even Mars are spectacular in good seeing. Through the C14, star clusters and planetary nebulae look almost as good as the planets. This scope is large enough to see dust lanes in galaxies such as M51, and M81. When I put a binoviewer on this C14, brighter objects look even better, with amazing depth and contrast. I can get way more detail with my astrophotos I just couldn't get with smaller scopes. My C14 seems to have really good optics, limited by seeing. In many ways, this C14 edge scope is a very versatile telescope. The not so good: It is big and heavy. Doing astrophotography with this scope can be pretty daunting because of the size, weight, and focal length. Hauling the C14 around and putting it on my mount is a bit awkward and can take some effort. It took me some time to find a suitable hard case for this scope. This scope doesn't do well on a moderately priced mounts. Heavy, expensive mounts work so much better. Wide field views don't happen with a C14. Conclusion: The C14 edgeHD is even a better telescope than I thought it would be. As long as I keep it collimated it works better than the vast majority of telescopes I have looked through, over the years, including a few larger scopes. For me, it was worth the extra cost and the extra effort it always takes to set it up.
12/05/2020
Joe F.

United States
Great Scope, best scope out of the 2 other scopes I have owned
I have had this scope for about a year now, and love it. I use the scope with night vision and a binoviewer, with great results. I was thinking of going with another night vision scope (bi-ocular instead of monocular) but looked into live video instead. I am very glad I did. From what I have researched, there is no need for another type night vision scope, and the Mallincam video camera is $2000.00 less and I get much more than what I was getting from my Gen 3 White Phos PVS-14 NV scope, including beautiful shades of bright color with good contrast. I am in the process of purchasing a Mallincam DS26C TEC live/real time video camera with photo stacking. I have been in contact with Jack Huerkamp, the sales representative for Mallincam who I am very impressed with. Jack took his time to explain the Mallincam products to allow me to make the best purchase decision, I could make. Jack tells me that he has many customers who use the C-14 Edge with their video camera products with outstanding results. If you get a chance look into Mallincam, especially review their videos of Jack and others using the Mallincam camera. The videos blew my mind, and is exactly what I was wanting all of my Astronomy life. Also, because the C-14 is at F-11, I will be purchasing an appropriate focal reducer Jack and Rock are recommending, as part of my Mallincam system. I will no longer have to look through an eyepiece to see fabulous live and still images, and in color. Finally, when you here people say the C-14 is too heavy to mount, it is no problem if you use a Walmart fold up table, which actually matches the height of the C-14 tube at 180 degrees during set-up. All u have to do is set the C-14 tube on the table with the objective lens down and tighten up the tension knobs on the dove tail. Joe Fournet Lafayette, LA
03/03/2020
Joe F.

United States
Fantastic everything!
Nothing but great, and the service was so good that I am now, only, going to purchase with OPT. Your prices are better, or at least the same, as anyone else. Since u guys r so service oriented, the only way to go is with OPT. Thanks, and don't change a thing. Regards, Joe Fournet Lafayette, LA
C14 Edge OTA
OPT delivers again!
Optically Excellent
I completely agree with the first reviewer. It's a pity the company went cheap on several components of its flagship instrument. In addition, the optional 0.7X focal reducer is way overpriced. While it works well both visually and photographically, contrary to claims it does not have a 40 degree clear fov, and vignettes considerably with a full frame DSLR