Product Reviews
Customer Reviews
Write a Review
Ask a Question
Filter Reviews:
alignment
star tracker
mount
YouTube
tripod
stars
camera
scope
WiFi
order
Sky-Watcher Star Adventurer 2i Pro Pack
I recieve mount in a few days and setup was easy. I am not a expert but had my nikon tracking perfectly the first time i set up
03/25/2022
Zenius L.

United States
Great Product so far!
I have used this 4 times so far. I love the time lapse shoot move shoot function. I have also utilized the deep space astro feature using my 70-200 2x extension with it with some cool results. Still need to learn the star stacking but this is great for people starting off in astrophotography with lots of room to grow. Looking forward to bringing this to Arizona so I will have no light pollution.
03/18/2022
Anonymous

United States
Newbie using Star Adventurer 2i
Im just a beginner to astrophotography. I have yet to take any pictures since I am learning about my camera at the same time. Fortunately there are some nice instructional videos on YouTube to help get started with this tracker. I like all the features so far and don't have anything negative to say.
12/13/2021
Leonardo R.

Mexico
A great little mount
It is an excellent mount. I use it with the Radian 61 and Asi 2600 MC, total 3.5 kg with accessories. The key to success with this mount is the tripod. With a carbon fiber tripod it is very unstable, with the tripod of my old EQ6 pro goto (8 kG) it is totally stable, getting great results. You should sell some 4 kg tripod. This mount is perfect for small focal lengths, respecting the weight, which does not exceed 4kg and t the equipment to be placed on the mount must be perfectly balanced. I had to improve it with some accessories to gain stability and reduce weight and now it is perfect for me. An excellent purchase that allows me to travel to the skies without contamination (bortle 2-3). With my old EQ6, with 20 kg +8 of the tripod plus the rest of the equipment, it is very heavy to make long trips, with the star adventurer, I lose focal but I gain portability.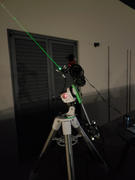 08/23/2021
Rodney M.

United States
Excellent service
This is great stuff!
08/11/2021
Scott D.

United States
Easier to use than I thought!
I used the Sky-Watcher Pro last week to take some pictures of the Milkyway in Rocky Mountain National Park. After reading the instructions and doing a dry run at home I thought I was prepare. I was able to do a polar alignment at dusk with NO PROBLEM. It really did only take about 5 minutes once I could see polaris. Very simple to get to the right spot on the reticle. What I wasn't prepared for was if I needed to move my tripod in the dark. I mean really dark. There were so many stars out at that stage that I honestly couldn't tell which one was polaris!! Not wanting to waste the evening, I figured, I would just point the thing north and hope for the best. I'm happy to report that for long exposures of the Milkyway, you DO NOT need perfect polar alignment. I was probably way off and I was still getting pin point stars with upt o a 120 second exposure. I'll use this again for the Milkyway for sure.