Product Reviews
Customer Reviews
Write a Review
Ask a Question
Filter Reviews:
foam
golf club bag case
tension
image
field flattener
case
dew shield
Orion
Moon
DSLR
01/07/2021
Eric G.

United States
Awesome scope
The scope is great. I took my first image of Orion and was surprised at how flat the image was. It was recommended to buy a field flattener, and I did, but still, the image was great on my full frame DSLR. The integrated dew shield works as it should. Not to little tension, not too much. The same night I also used the included diagonal and looked at the moon. It was the most crisp image of the moon I've ever seen. I've had an 8 inch sct for years, and it's great, but I love this scope. It doesn't come with a case, but I improvised and used a golf club bag case, added some foam, and it's perfect.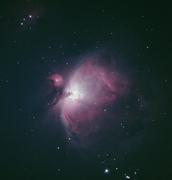 08/16/2020
John O.

United States
Best APO refractor for the money
You can see the results by visiting my web site, www@oneilladverising.com. Robert's scope must have been damaged somehow. I'm sure Scott at Explore Scientific will fix it for him.
08/05/2019
Anonymous

United States
Was everything I expected
I have been eyeing this scope with HOYA glass for a year and decided to pull the trigger and purchase it. With the steep discount on this scope and a fare trade-in for my RC 8" I was able to finally get this one. Working in the semiconductor field for many years I am very familiar with the excellent quality of HOYA glass to provide extremely sharp images. I only gave it four stars until I get first light on it soon. I am in the process of replacing the HEX focuser with a 3-inch rack-n-pinion FeatherTouch Focuser with stepper motor to take advantage of the F.T. focusing electronics I have with my other refractor. Nothing wrong with the HEX rack-n-pinion focuser, just wanted to upgrade it. I also replaced the dovetail mounting bar with a three inch Losmandy bar for better scope stability while imaging. Thanks to the OPT staff working with me to finally obtain it.